While Ralph was in the middle of relocating from New York to California, he received a phone call from an animal rescue organization on July 14th, 2019. The rescue contacted him about a newborn kitten in Colorado that required urgent attention. Ralph is a vet who has expertise in caring for neonatal cats and hence, the rescue reached out to him seeking assistance.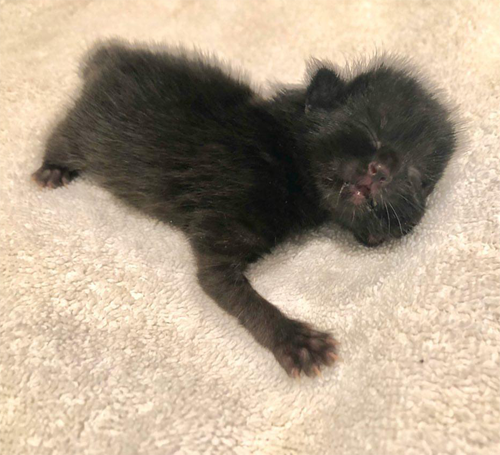 Ralph was informed that the cute little kitten was only a few hours old when she was brought to the rescue center. Her biological mother had abandoned her, leaving her with no choice but to be surrendered to the center. Upon closer examination, Ralph realized that the kitten had diprosopus, an incredibly rare congenital disease caused by an excess of sonic hedgehog protein during fetal development. According to Ralph, this protein is in charge of shaping the face in the womb. Diprosopus is a condition where the body and limbs grow normally, but the facial features are duplicated.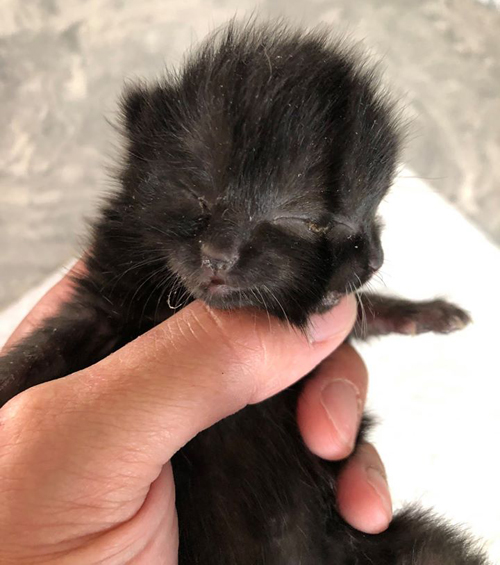 Ralph, a person who owns three blind cats and has experience in caring for special needs cats, eagerly took on the responsibility of looking after a tiny feline who needed extra care. He had previously cared for neonatal kittens, making him well-suited for the task. Ralph was determined to do everything in his power to help the kitten survive, and he picked her up from the rescue when she was merely three hours old. Due to her two faces, he named her Duo.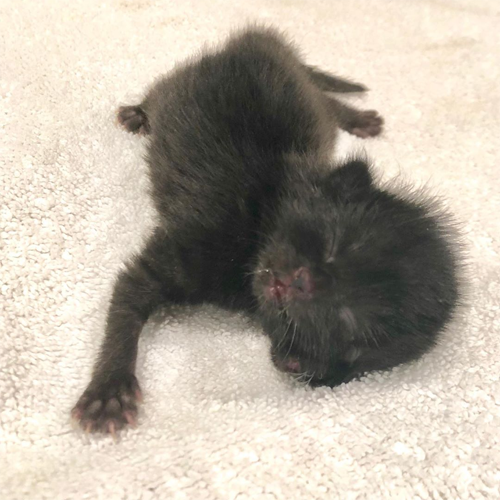 @duotwofacedcat shared a picture of the adorable kitten who required frequent feedings due to her young age. However, Ralph encountered an obstacle when he found out that Duo couldn't feed from a bottle. Unwilling to give up, he found an alternative method of feeding by inserting a tube into her esophagus to ensure she received the best possible care.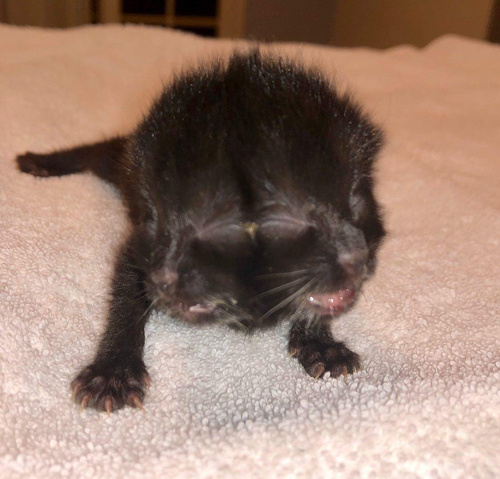 Ralph expressed surprise at the survival of Duo, his pet cat with two faces, as he initially thought she would not make it past a few hours. However, tube feeding turned out to be effective, and she was fed every two to three hours for the first three months, which helped her grow and gain weight.
Ralph's dedication to helping Duo thrive was unwavering, even while working full-time as a veterinarian. He persevered until the cat could finally eat on her own, but unfortunately, this caused another problem. Duo frequently got food in her middle eyes, leading to chronic infections.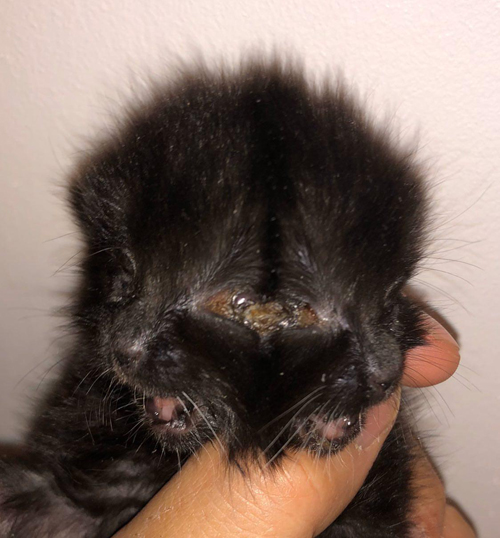 Duo the cat, who gained fame on Instagram under the handle @duotwofacedcat, recently received surgery to address a long-standing issue. The operation, which took place on March 11, 2020, involved the removal of both eyes due to their non-functionality and past issues with discomfort and infection. Owner Ralph provided this explanation for the procedure.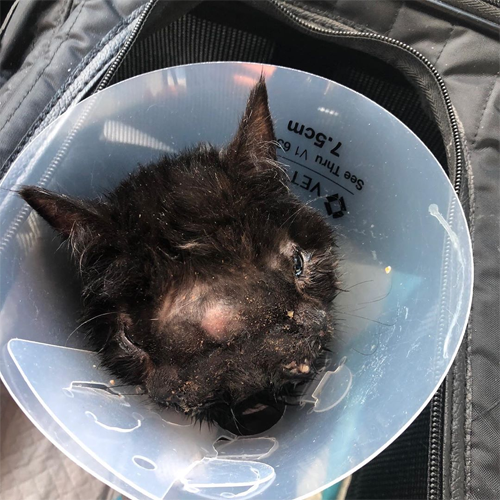 Duo, the cat featured on @duotwofacedcat's Instagram account, underwent surgery while she was unconscious. The procedure involved spaying her and treating her entropion, a condition that affects her outer eyes. Entropion results in the eyelids rolling inwards and the eyelashes scraping against the eye surface, causing discomfort. Ralph, Duo's owner, shared the information about the surgery.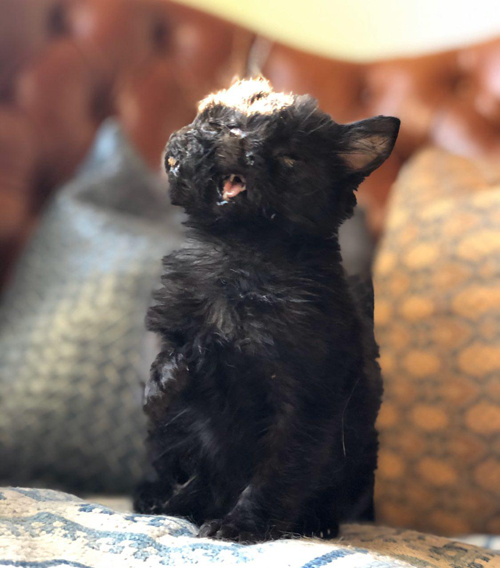 Thanks to Ralph's assistance, Duo has been able to recuperate from her surgeries and is now living a pain-free and content life. According to Ralph, "Duo has been thriving ever since the surgical procedure as both her outer eyes can fully open, and she has exhibited more coordinated movements."
Despite Duo's popularity, diprosopus remains a misunderstood and rare condition. Many people mistakenly associate Duo with conjoined twins, who are identical twins fused together in the womb. However, it's important to note that conjoined twins can take on various forms depending on their fusion, while diprosopus is a result of excess protein during embryonic development leading to duplication of certain facial features. This unique difference sets the two conditions apart.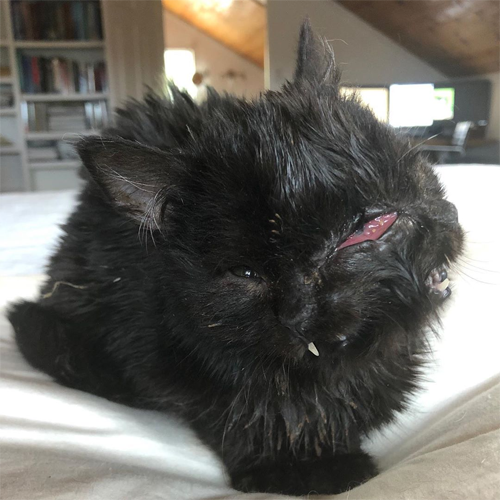 Duo, a two-faced cat, was born with an additional nose, mouth, and eyes, but contrary to popular beliefs, she only has one brain. Her owner Ralph often gets asked about her condition, as many people are unfamiliar with diprosopus. Despite her unique appearance, Duo is a content and lively cat, and Ralph firmly believes that she and other special needs cats can lead a healthy and fulfilling life. According to Ralph, these animals aren't aware of their special needs, and they don't let it affect them negatively. They adapt to their situation and make the best out of it.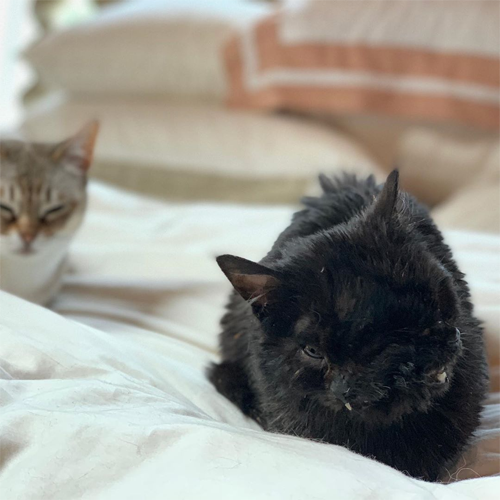 The Instagram account @duotwofacedcat features an adorable feline named Duo who, despite her unique appearance, lives a very normal life. Due to the special care and attention she has received since birth, Duo doesn't seem to realize she's different from other cats. Ralph, her owner, shares that she plays with her feline siblings, purrs, grooms herself, and even gets annoyed and hisses when her nails are trimmed. Although Duo's appearance may set her apart, her behavior is typical of any beloved pet cat.
Aside from being a playful pup, Duo has a huge appetite, which is quite surprising considering that she used to have difficulty eating. Ralph, her owner, believes that meal times are Duo's ultimate favorite. Ralph shared that Duo can easily recognize the sound of a can opening, and once she hears it, she immediately runs towards her food bowl and excitedly waits for Ralph to put her food down.
In July 2019, Ralph had an encounter with a newborn kitten named Duo. At that time, he was uncertain about her survival as she was just a few hours old. Nevertheless, Ralph was determined to help her survive and now, after almost nine months, Duo is thriving. Ralph believes that if he hadn't stepped in, Duo may not have made it. However, he doesn't want to take all the credit for her success. According to him, Duo has faced some obstacles along the way, but she never gave up. She's a true fighter and has taught Ralph that every animal deserves a second chance.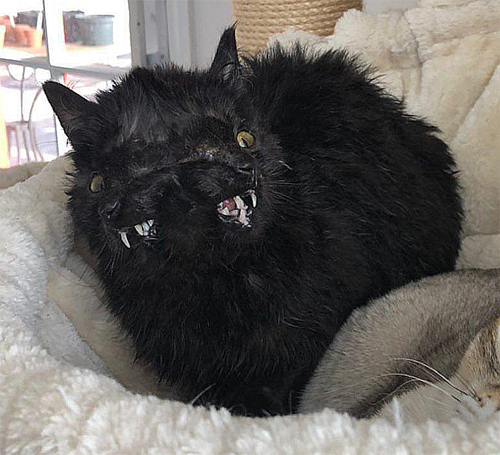 If you're interested in getting to know this stunning feline better, be sure to give Duo a follow on Instagram, where you can see more of their gorgeous photos and learn all about their unique personality.