The modern dining rooms featured in this collection are perfect for those who want to enjoy the beauty of nature while breaking bread with loved ones. With a total of 51 dining spaces that are designed to connect with natural light and greenery, you'll find botanical dining rooms filled with live plants, courtyard designs that link indoor and outdoor spaces, glass walls that open up to lush gardens and poolside terraces, and outdoor dining areas that offer an authentic al fresco experience. The collection includes a range of aesthetics from boho and rustic to modern and industrial styles, and features inspiration from countries like Vietnam, Thailand, Indonesia, India, Mexico, and Brazil. So if you're looking for a dining space that combines comfort, elegance, and Mother Nature's beauty, this collection is sure to inspire you.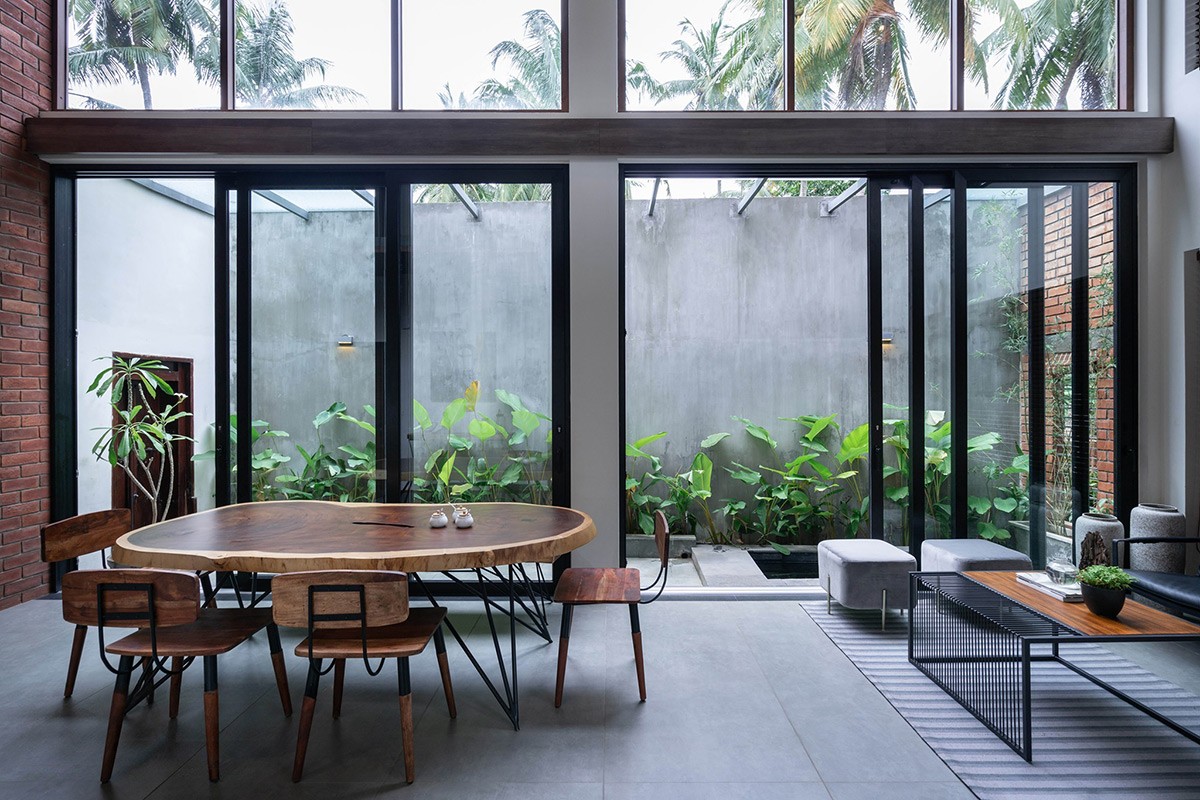 Let's pile it up! The contemporary dining area invites the outdoors in with its double-stacked windows that offer an unobstructed view of the sky. The room's main attraction is a gorgeous live edge dining table that exudes warmth with its rich wooden hue. The walls showcase the beauty of exposed red brickwork while the grey concrete floor adds a touch of industrial chic to the space.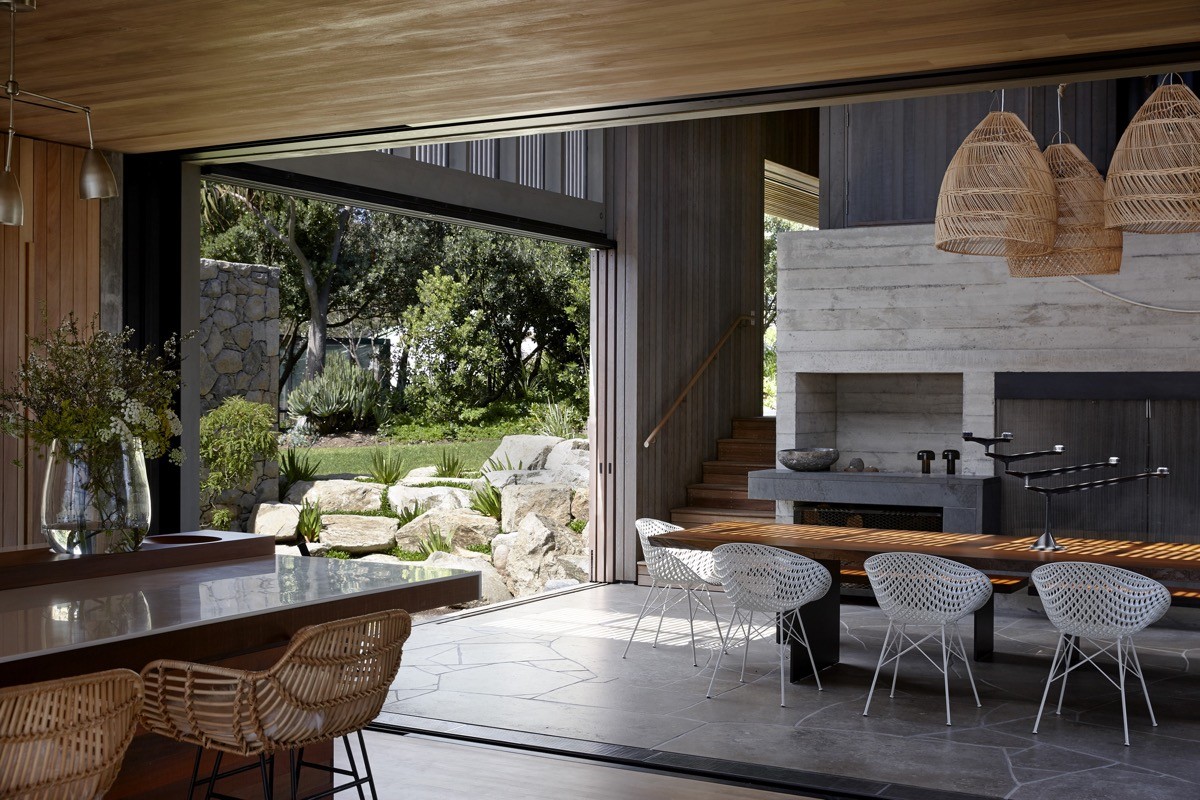 Imagine a beautiful scene where you're dining in a room with fully retractable doors that reveal a breathtaking garden view. The sun's warm rays filter through slatted panels on a clerestory window, illuminating a long wooden dining table. The play of light and natural wood tone is perfectly complemented by a cluster of wicker dining room pendants hanging above and modern dining chairs below. It's a visual masterpiece that truly highlights the beauty of nature and modern design.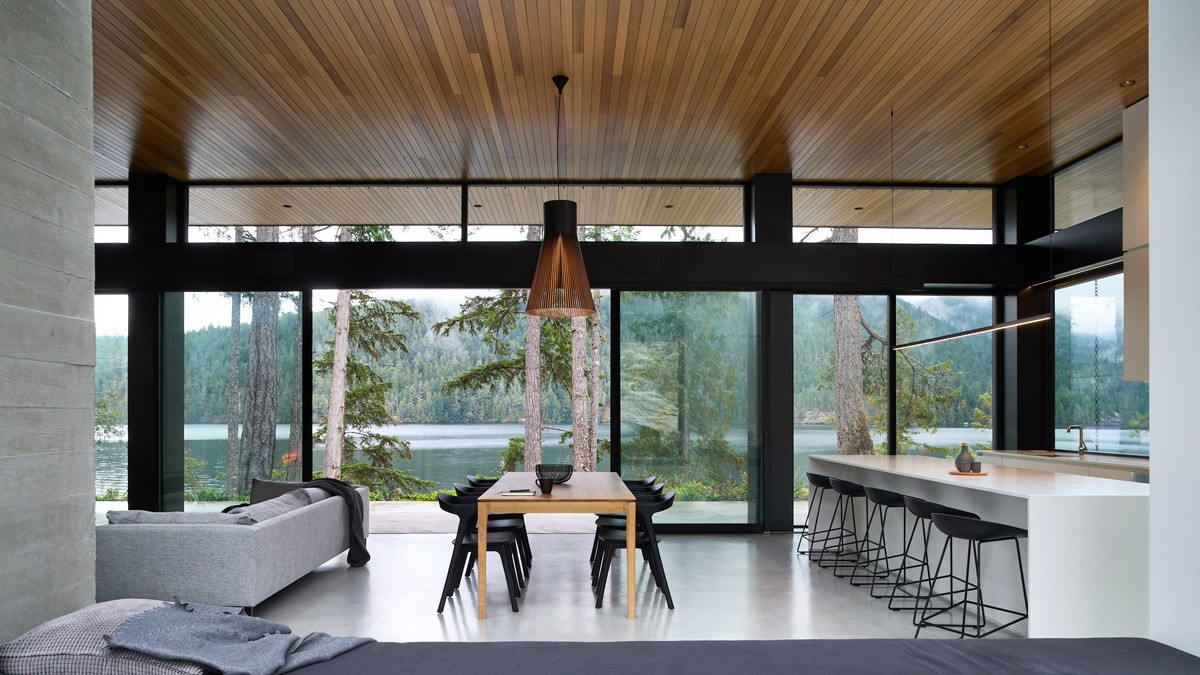 Connecting with nature has never been easier thanks to the beautifully crafted wooden ceiling treatment that blends this open dining area with a stunning terrace and breathtaking lake view.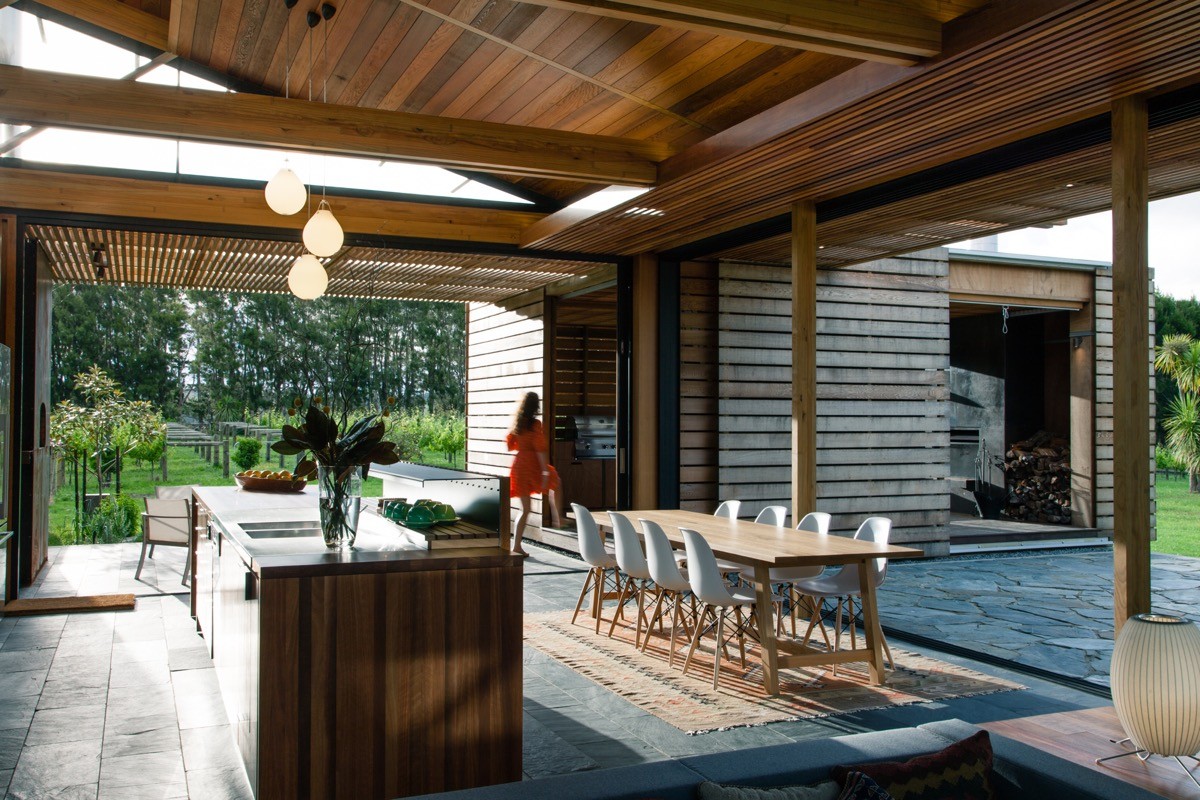 The dining area is designed to offer various views of both the garden and cityscape, thanks to the multiple windows and roofline windows. To enhance ventilation, the glass walls can be retracted to let in a fresh breeze, along with the natural sounds and smells of the surroundings. Overall, the space is bright, spacious, and provides a multifaceted experience.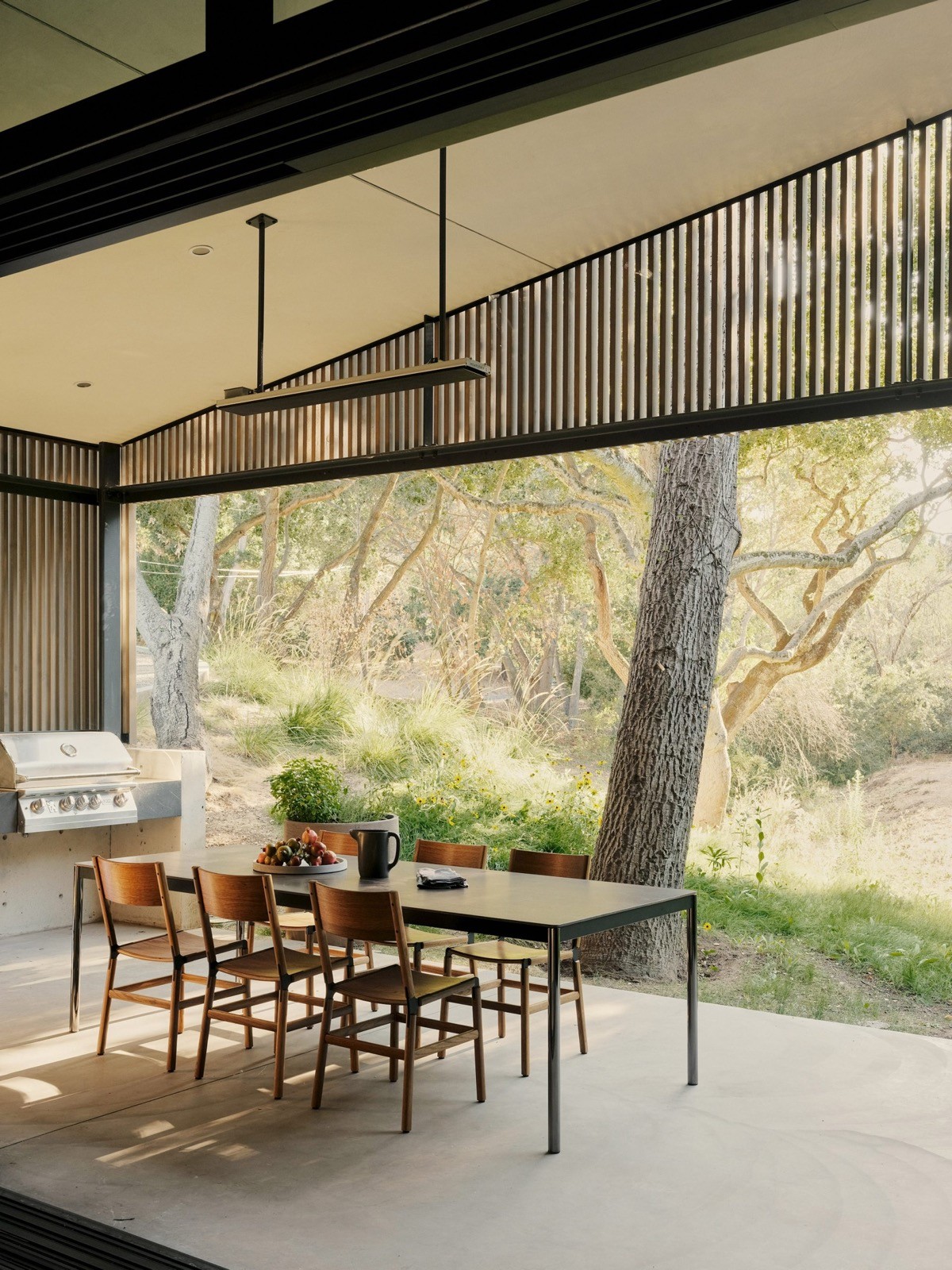 Create a seamless blend of indoor and outdoor living spaces by incorporating a concrete floor that effortlessly blends with both interior and exterior aesthetics. Take advantage of outdoor cooking by installing a built-in barbeque grill, perfect for enjoying al fresco dining. The surrounding woodland landscape adds to the stunning view, making it feel like a natural extension of your home.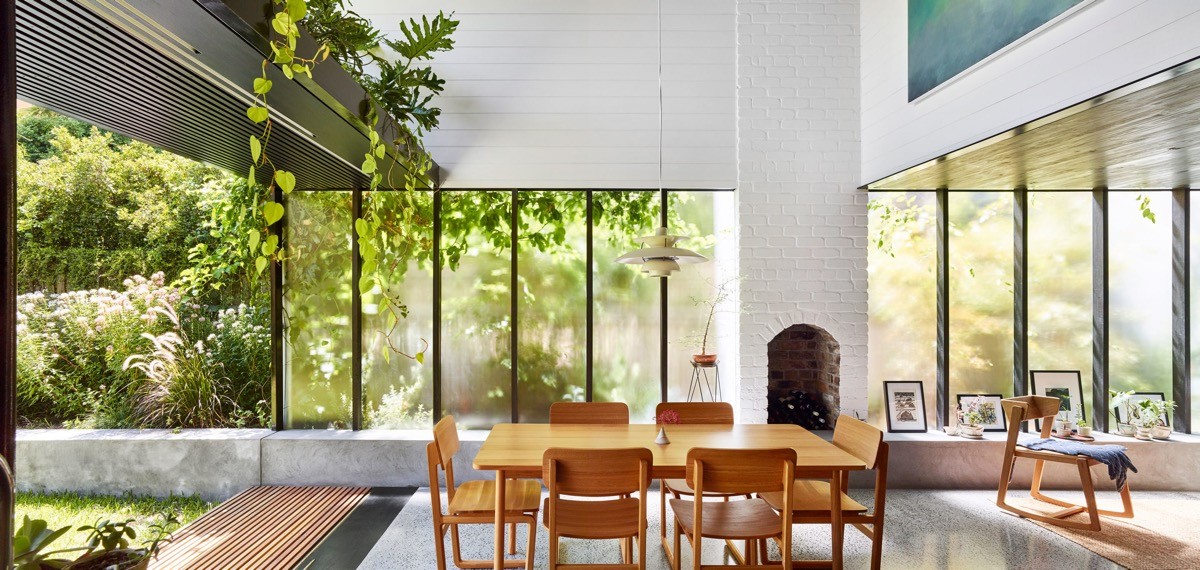 Bring the outdoors in with nature's touch. Lush vines cascade from the towering windows, creating a seamless blend between indoors and out. Inside, some of the plants are carefully tended to obscure the boundaries of the home.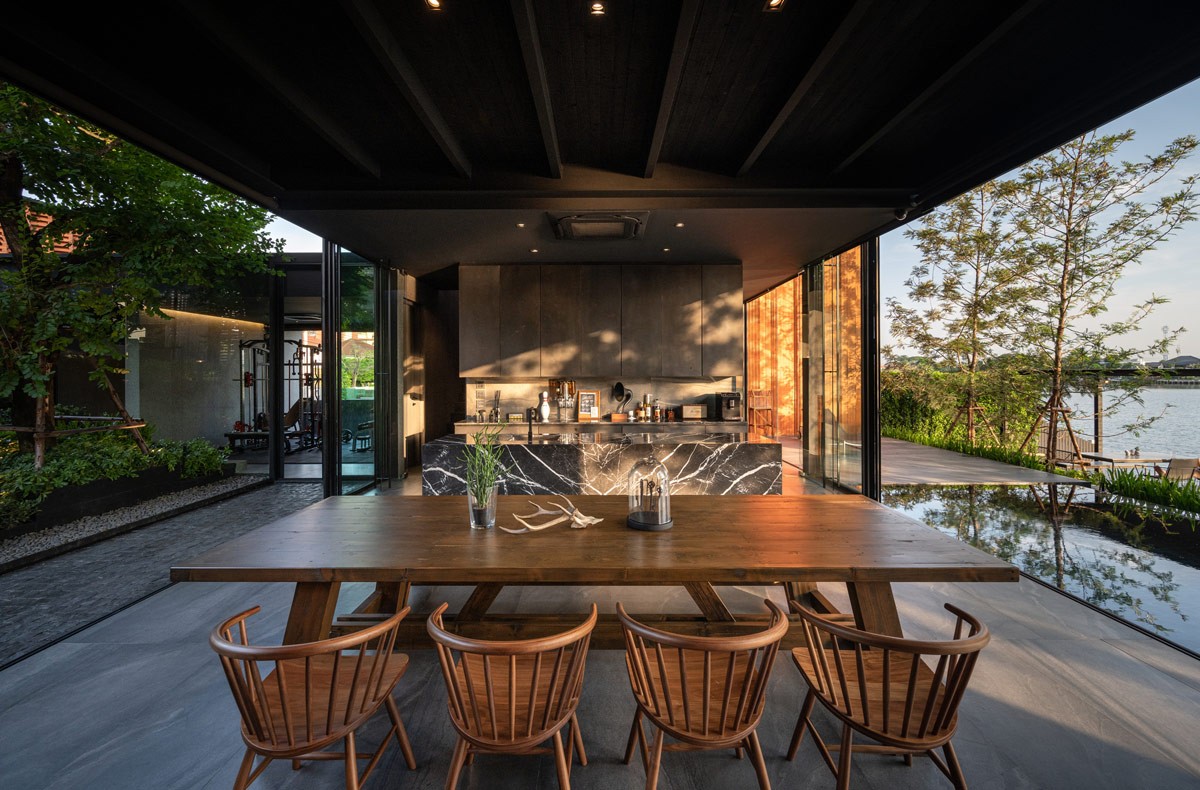 How about a nature sandwich for your dining space? By building an internal courtyard, you can enjoy stunning views of the environment on one side of your house while being surrounded by greenery on the other. Check out more photos of this beautiful home here.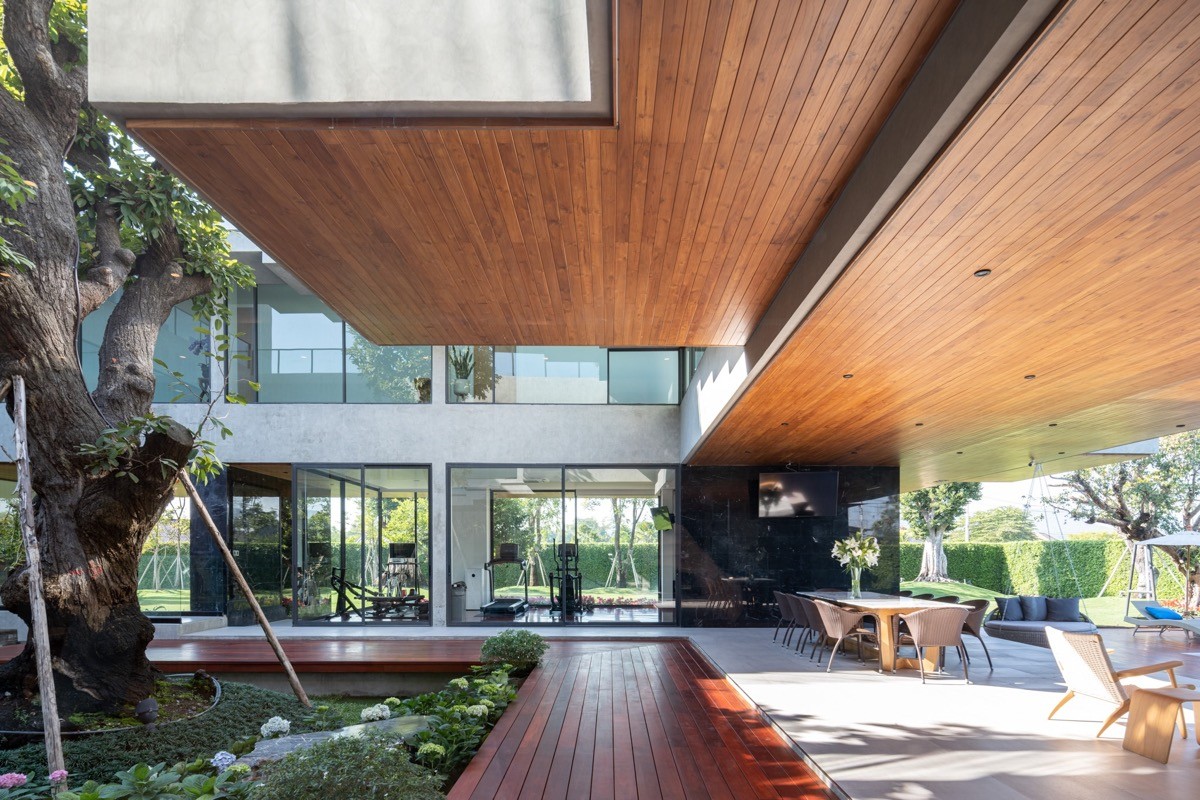 This dining area is surrounded by nature on both sides and has a beautiful tree in the center that enhances the overall ambiance of the place. The courtyard in the middle of the room also provides a seamless connection with the rest of the house, making it a cohesive space.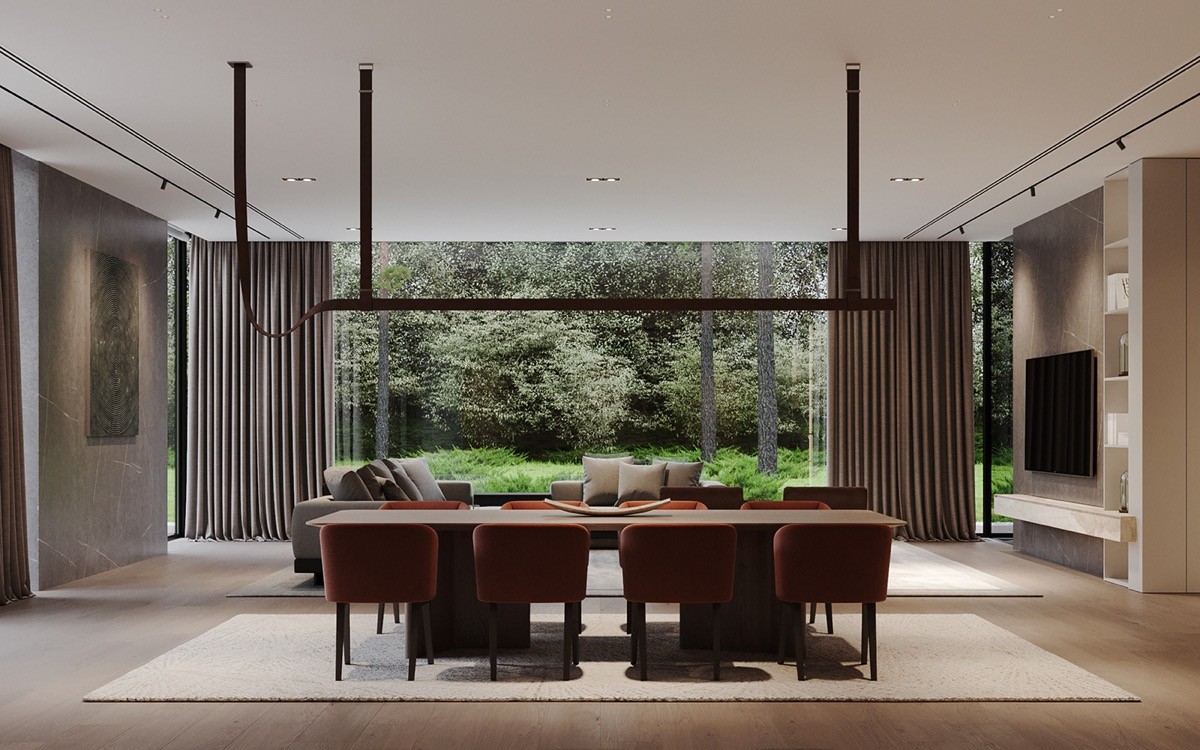 The dining area exudes elegance with its striking drapes that create a dramatic backdrop for the wide view of the surrounding woods. The addition of a sleek and modern linear suspension light further enhances the overall framed effect of the space.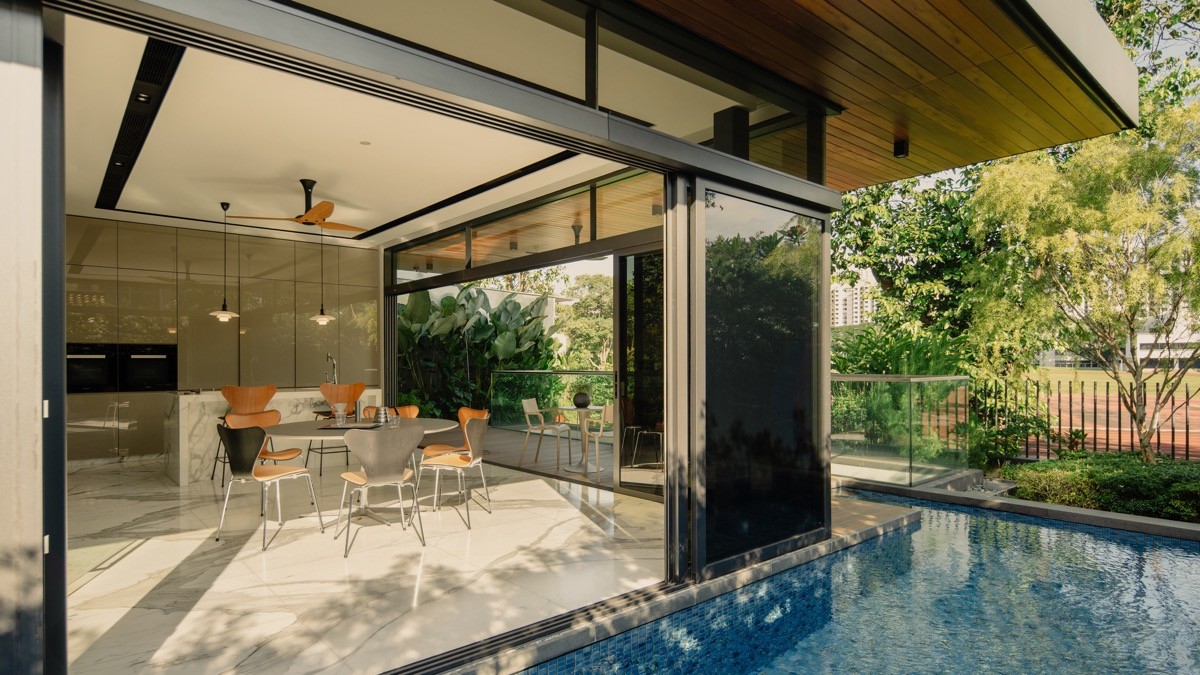 Why not bring the blissful waterside experience to your home? Even if you don't have access to a lake, a wraparound pool design can give you that same feeling of serenity. The shimmering water will reflect stunning light patterns on the walls, ceilings, and floors, creating a truly enchanting atmosphere.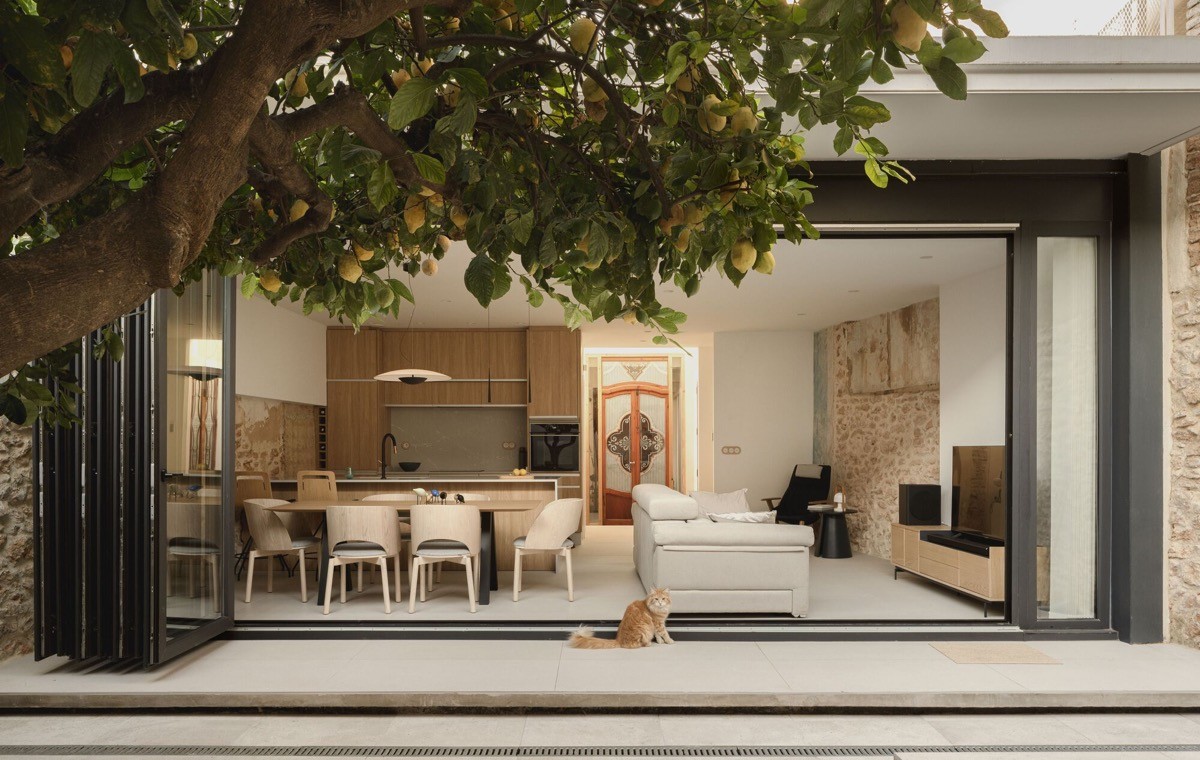 Can you think of anything more ideal than having a fruit tree just outside your dining room? This particular lemon tree leans gracefully towards the doors, providing an abundance of fresh citrus for delicious salads and tasty drinks.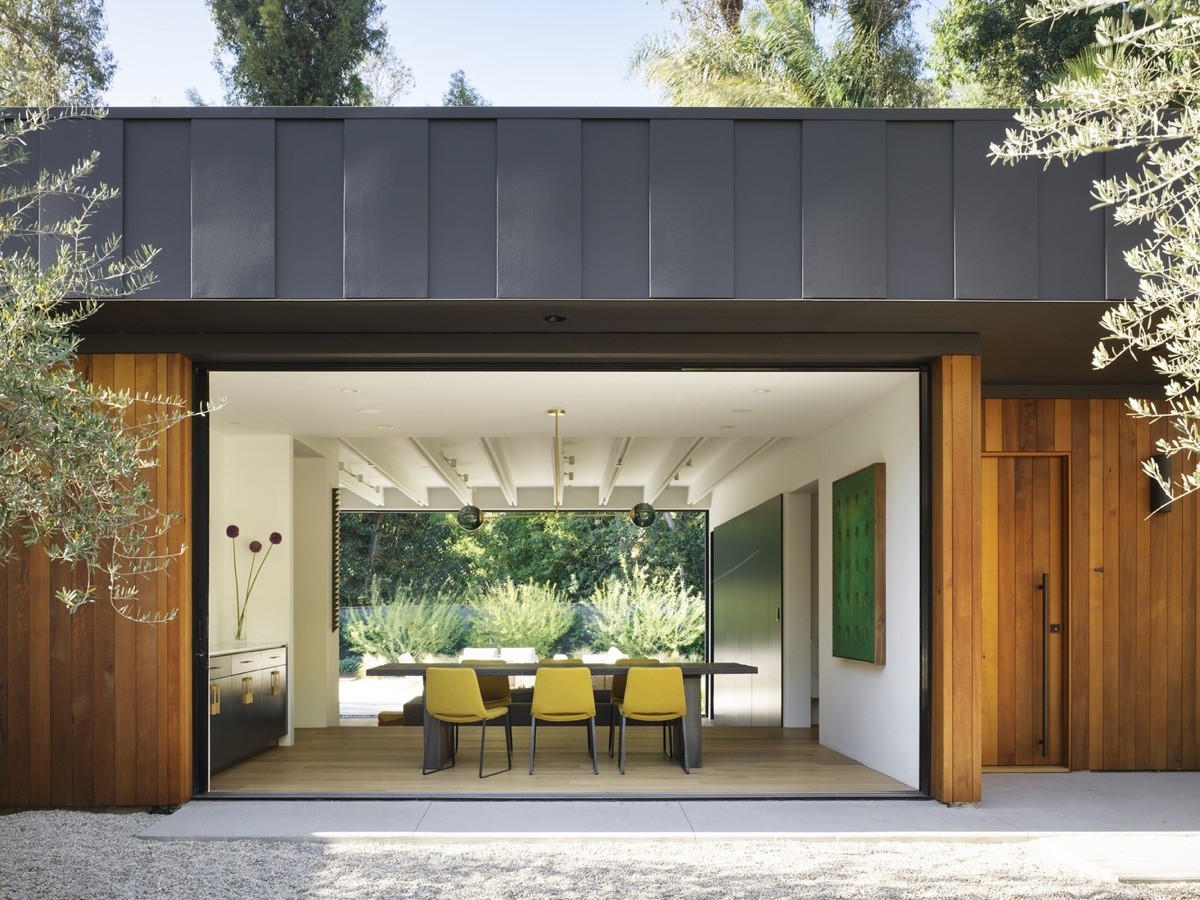 The dining room setup exudes a lively lemon atmosphere, thanks to the vibrant chairs. These upholstered dining chairs come in a bright color that adds cheerfulness to the overall ambiance. They perfectly complement the greenery views surrounding the area.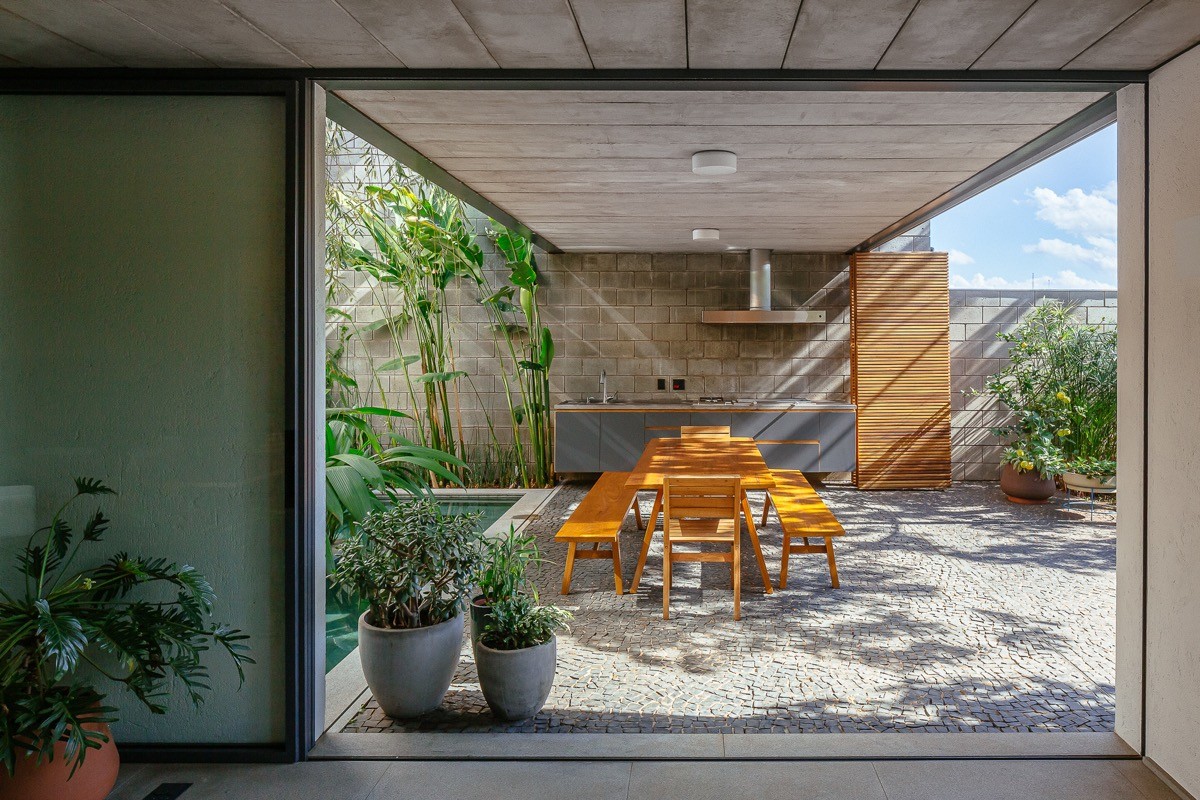 Protected and covered. Al fresco dining spaces have a unique appeal, allowing us to connect with nature while nourishing ourselves in a wholesome way. The addition of a roof ensures that we can enjoy this experience even during mild rain or intense sunshine.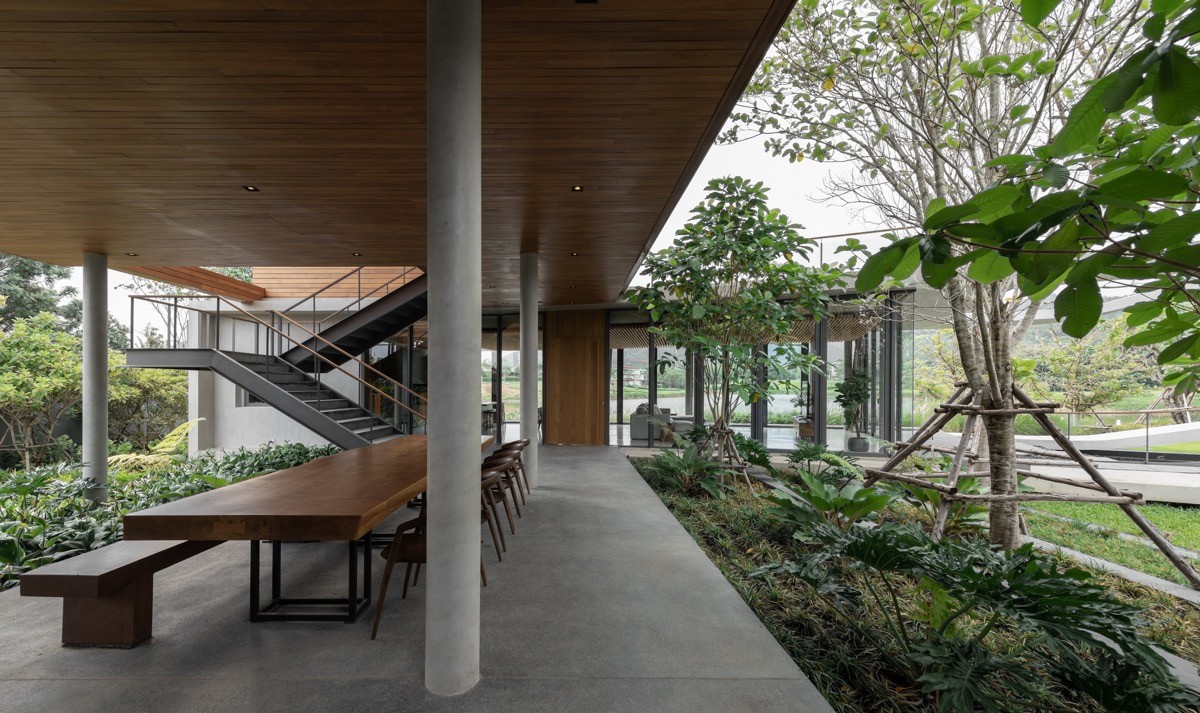 Here's another beautiful outdoor dining spot that's sheltered, complete with lovely landscaping to bring nature even closer.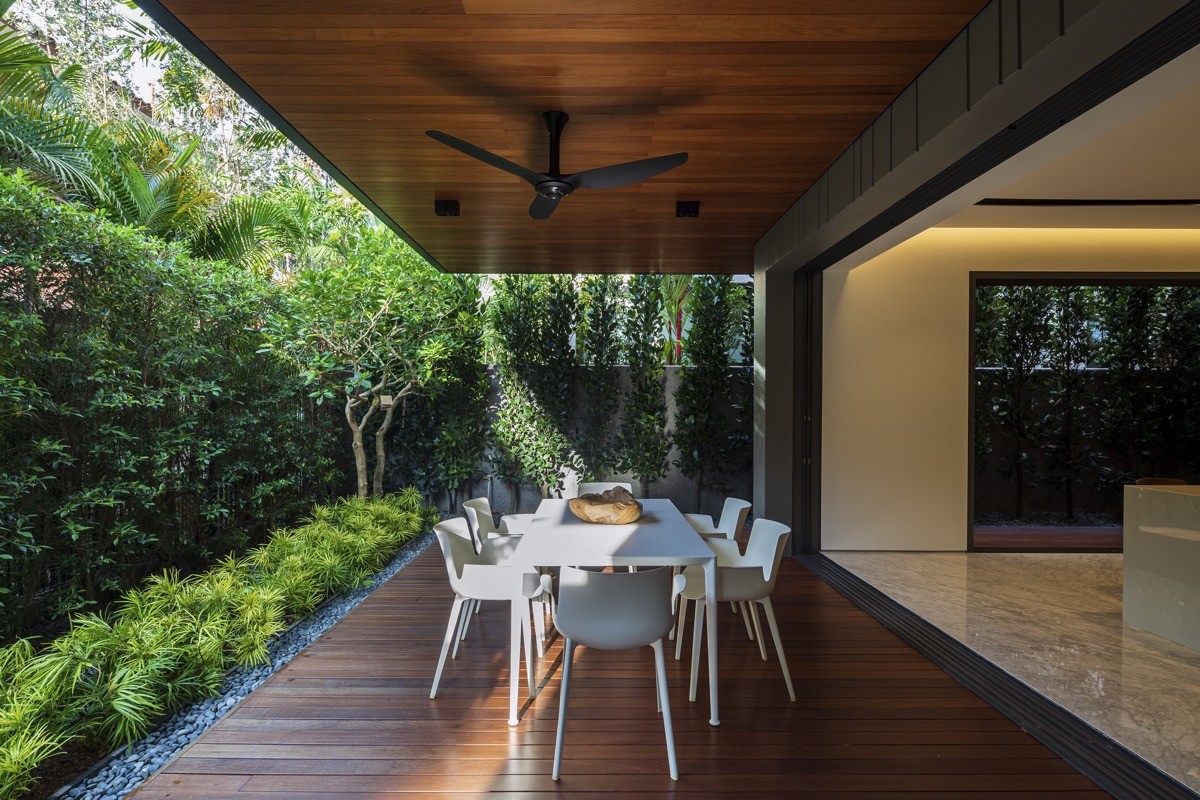 One can opt to install a ceiling fan in enclosed terraces to create a refreshing airflow. The striking contrast of the white dining table and chairs against the dark wooden flooring enhances the beauty of the surrounding natural scenery.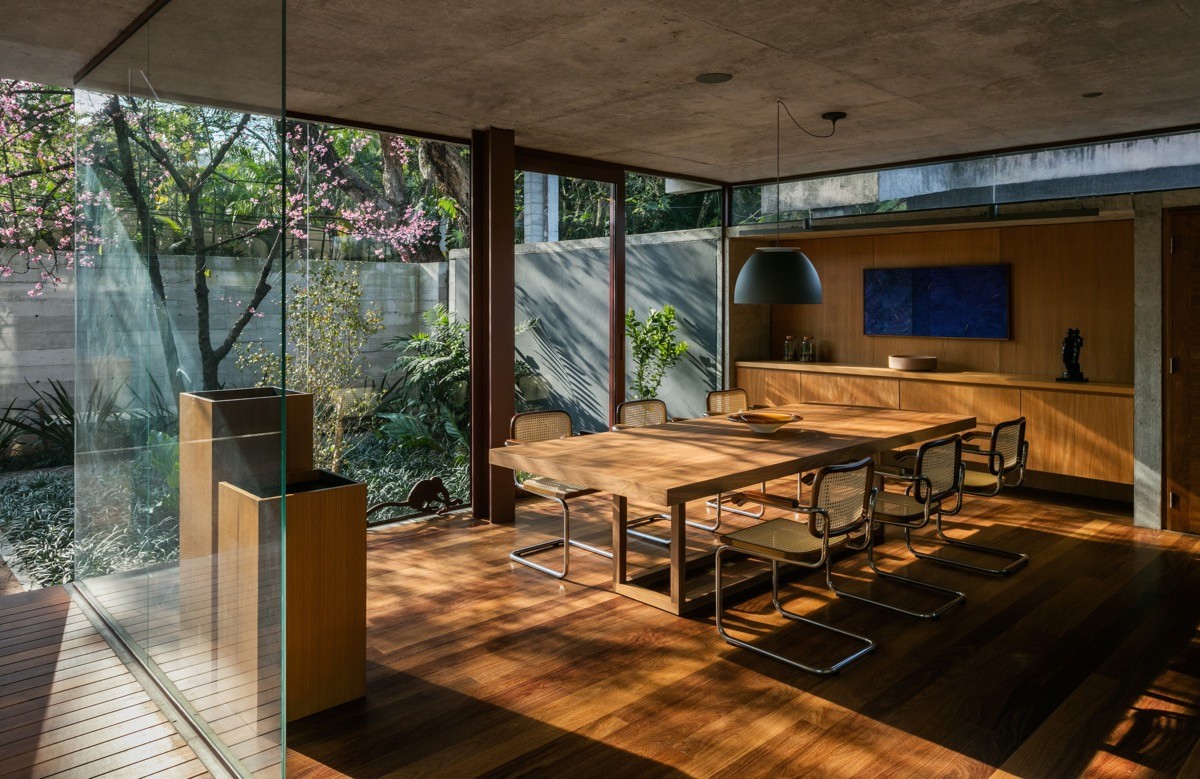 Make the most of your garden experience with frameless corner windows that offer a seamless connection with nature, minus the unpleasant weather and pesky insects. The dining area exudes a mid-century appeal with its vintage-inspired table and chairs.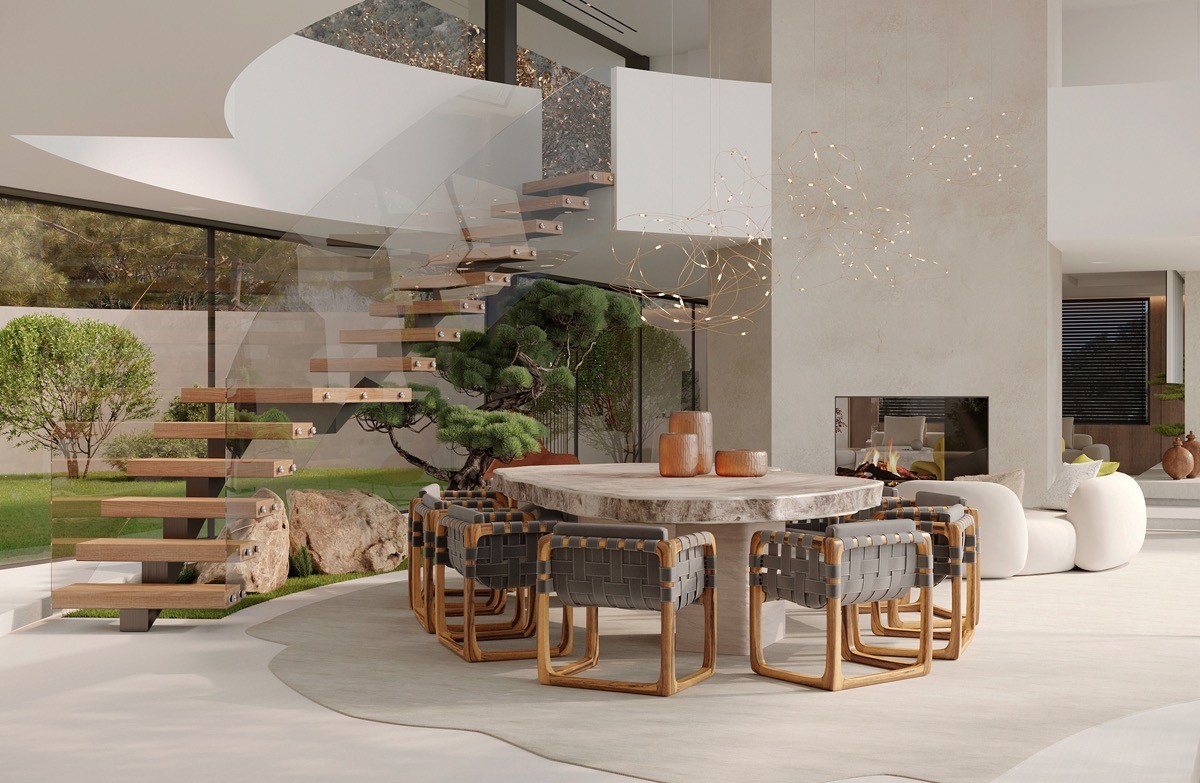 Stunning stairway. This staircase boasts a minimalist design with only one stringer and glass railings that enhance the view of the garden. The dining room's double-height void is a circular cutaway in beautiful white stucco that reflects light seamlessly.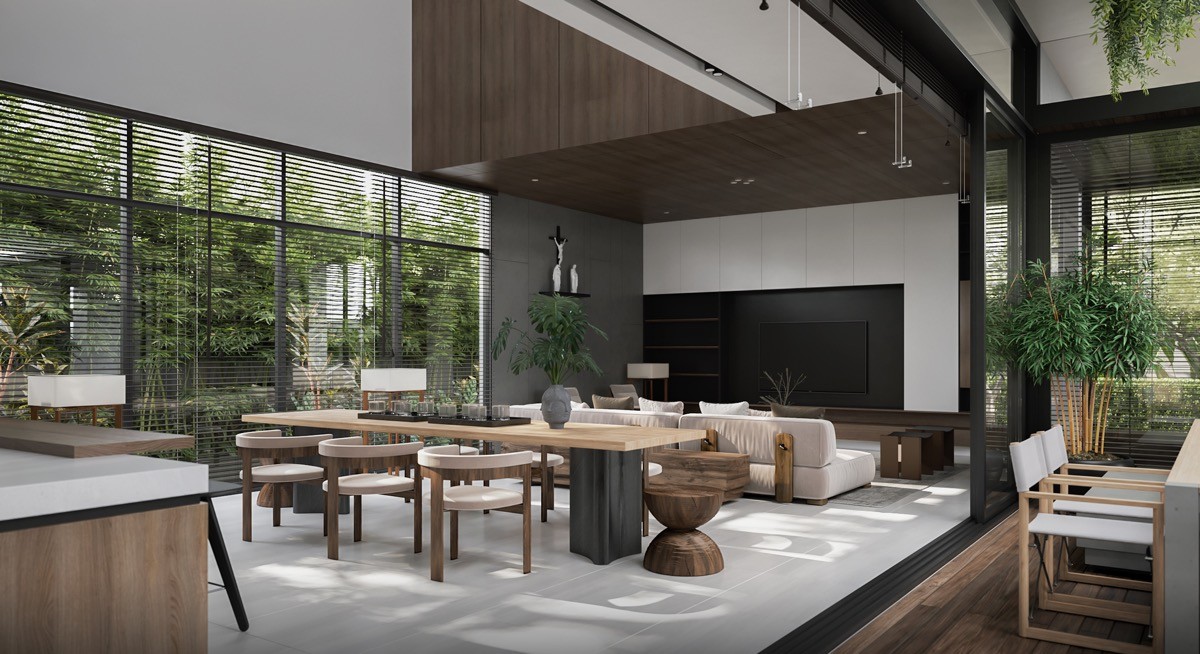 In this beautiful villa located in Vietnam, the dining room features a high white ceiling that creates an open and spacious feel. Additionally, the lounge area is located underneath a dark wood clad ceiling, which provides a cozy and contrasting atmosphere to the dining area.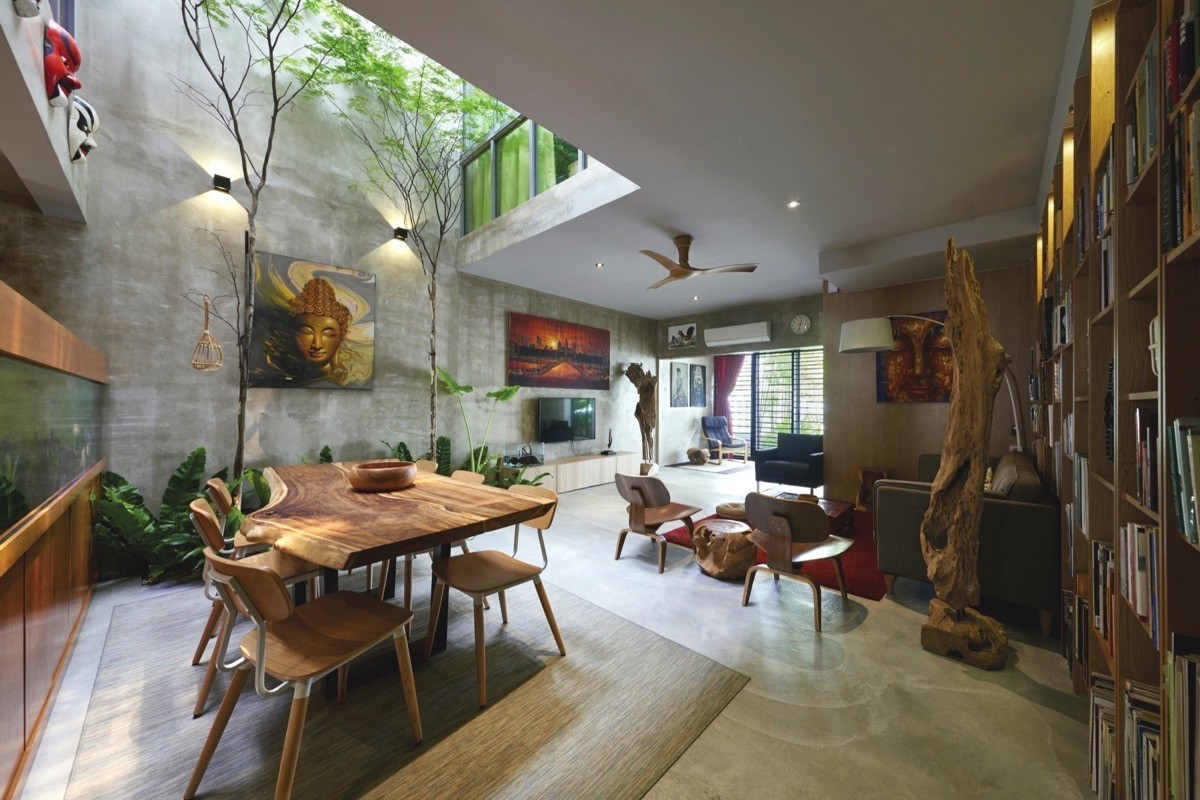 Select a cohesive collection of materials that complement each other. In this design, a stunning live edge wooden dining table is paired with natural wood cabinets, bookshelves, wooden dining chairs, and side tables. To create a peaceful atmosphere, elegant indoor trees and Asian artwork are incorporated into the space.
The combination of wood ceilings and wicker pendant lights creates a seamless blend of color and surface. This striking, angled ceiling provides ample space for a unique collection of pendant lamps throughout the contemporary dining area.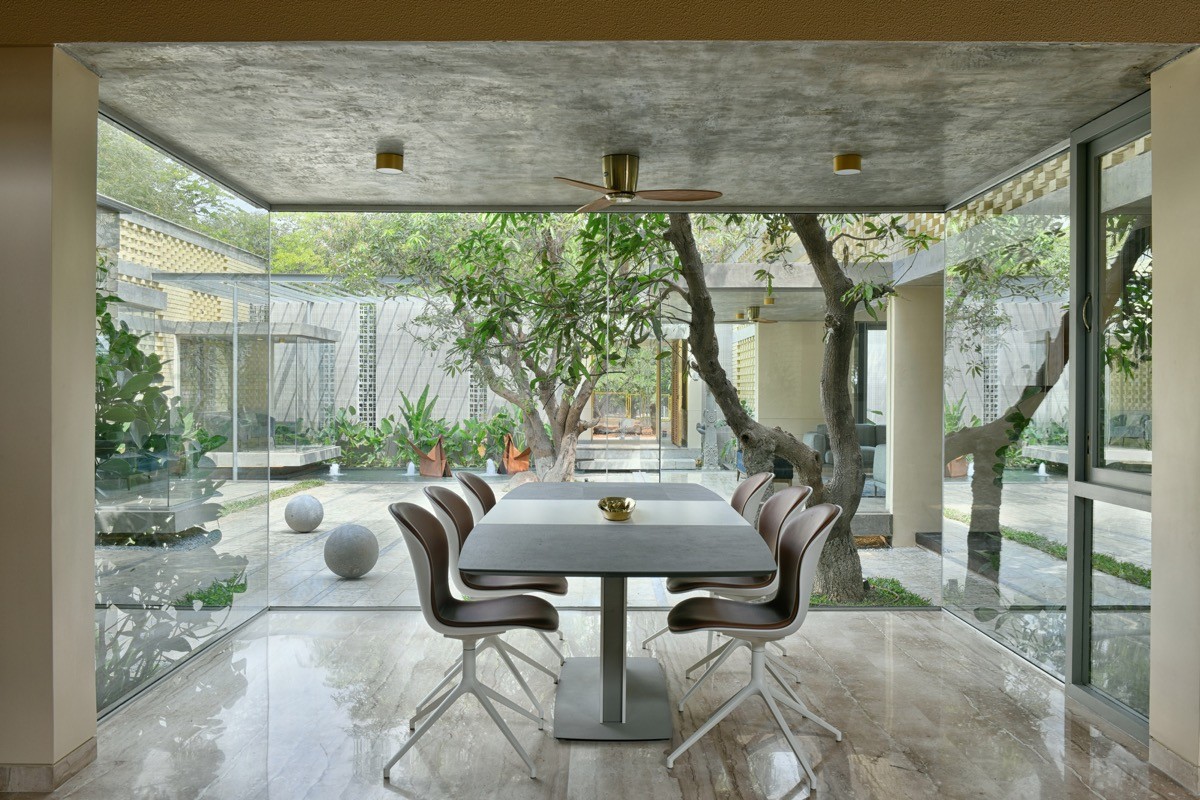 Taking cues from the natural world, this contemporary dining ensemble is adorned in shades of grey reminiscent of the tree bark visible through wide-spanning windows.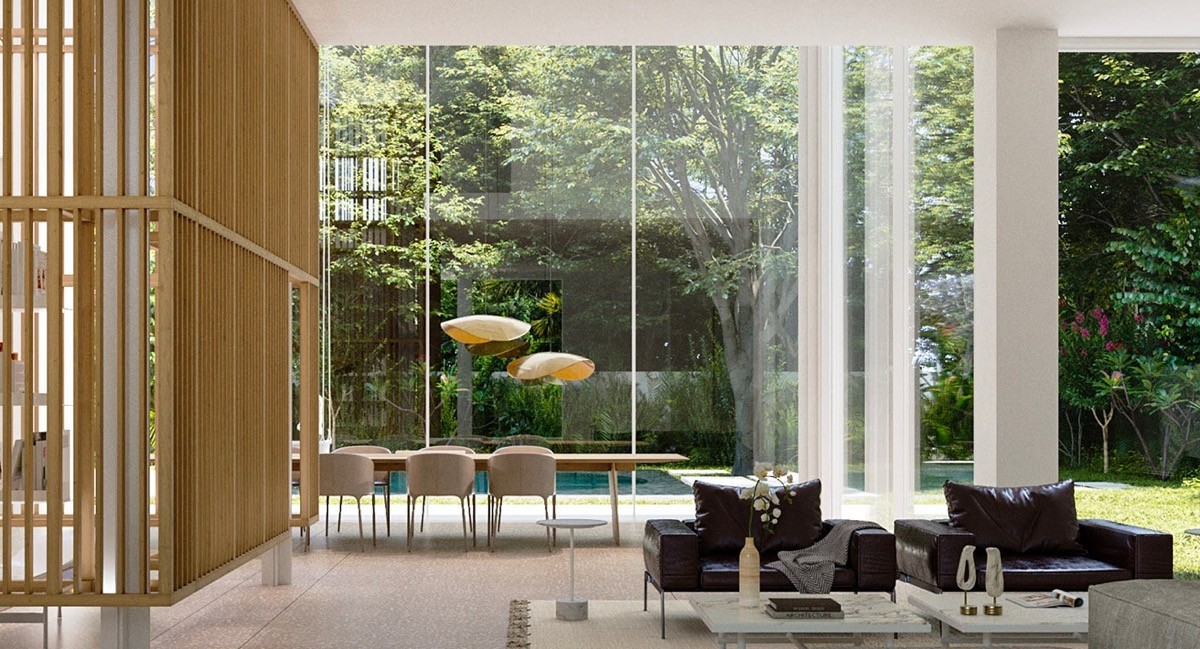 These windows are tailor-made to fit perfectly into a dining area with high ceilings, making use of every inch of space while allowing natural light to illuminate the room all day long, regardless of the time of year.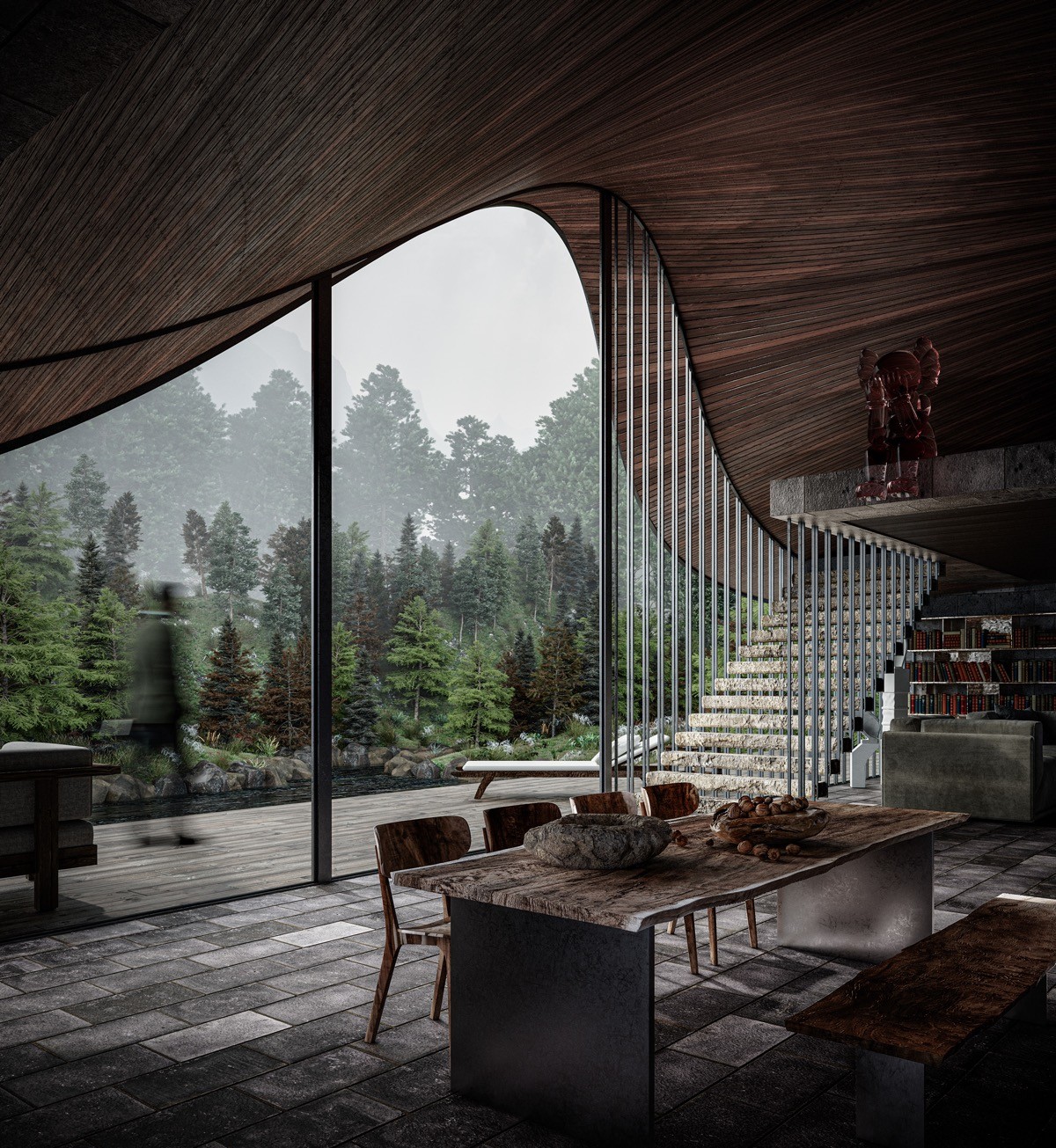 Imitate the natural scenery by designing the roofline to follow the sloping shape of trees. To complement the organic beauty of nature, incorporate rustic bowls and decorative trays with freeform designs.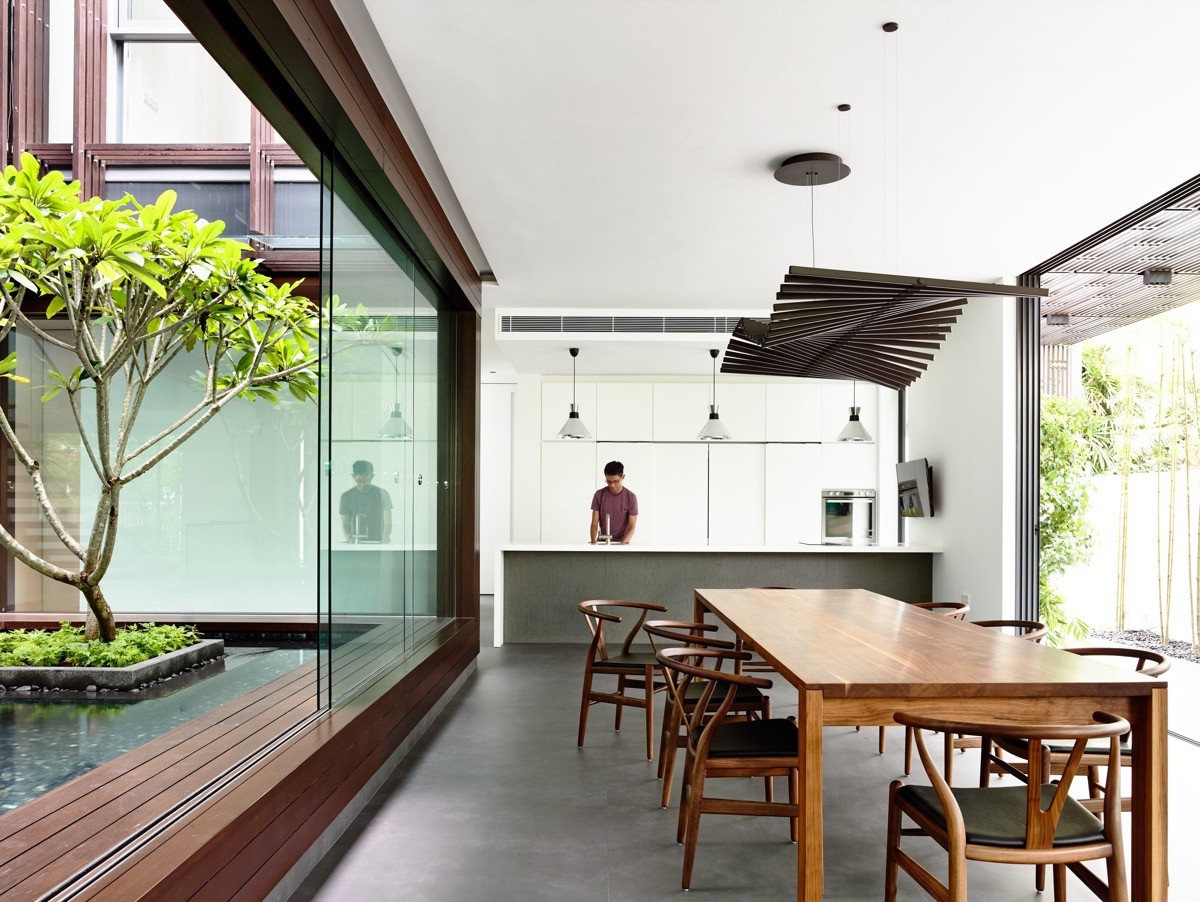 Enjoy the serene scenery of the pond from this minimalist dining room design. The window sill doubles as a cozy seating area where you can take a break or munch on a sandwich while relishing the breathtaking view of the raised pond right outside. The elevated position of the water feature also makes it easy to admire from the dining table.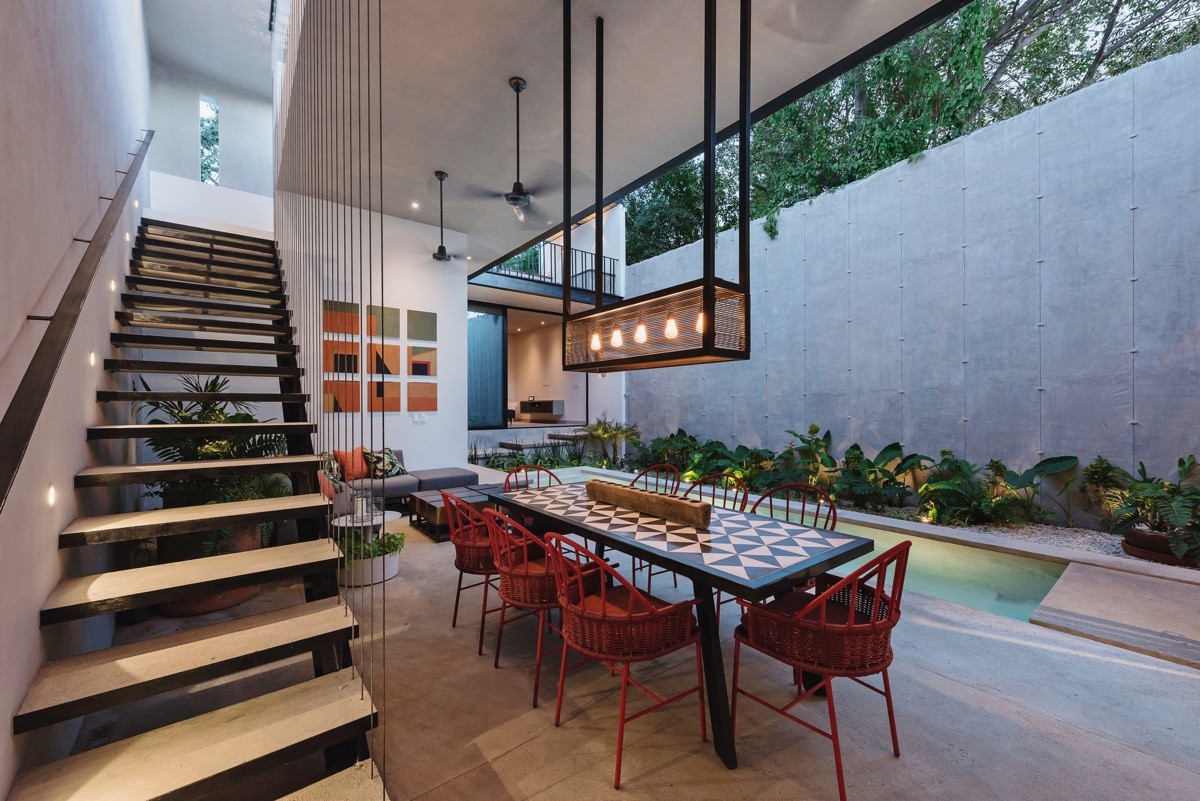 Boost the brightness by adding a pop of color. If you're incorporating botanical or nature-inspired decor items, consider incorporating shades of vibrant red or orange for a bold and eye-catching contrast.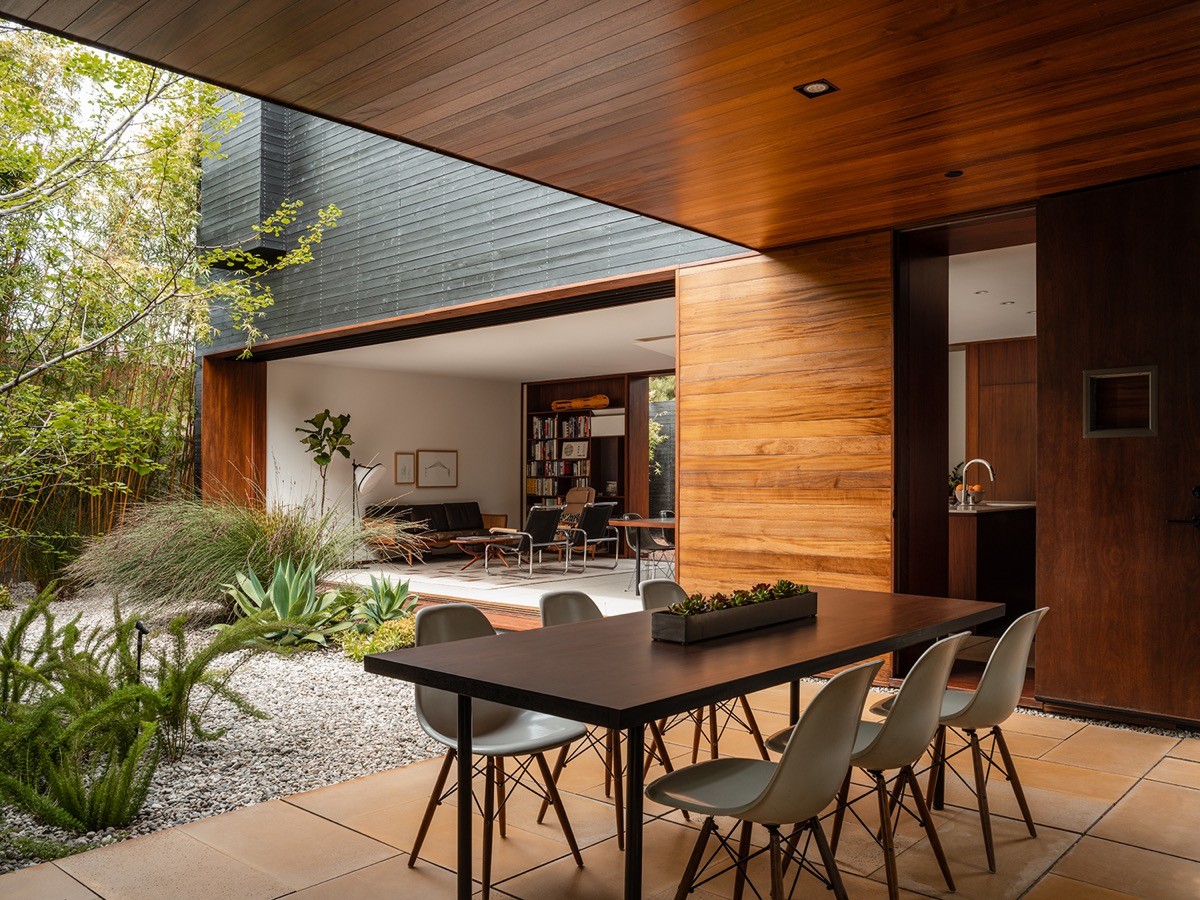 The combination of timber and smoke creates a unique aesthetic that can sometimes appear too uniform. However, adding smoky-grey and charred-black accents can elevate the style by creating distinct areas and enhancing the overall definition.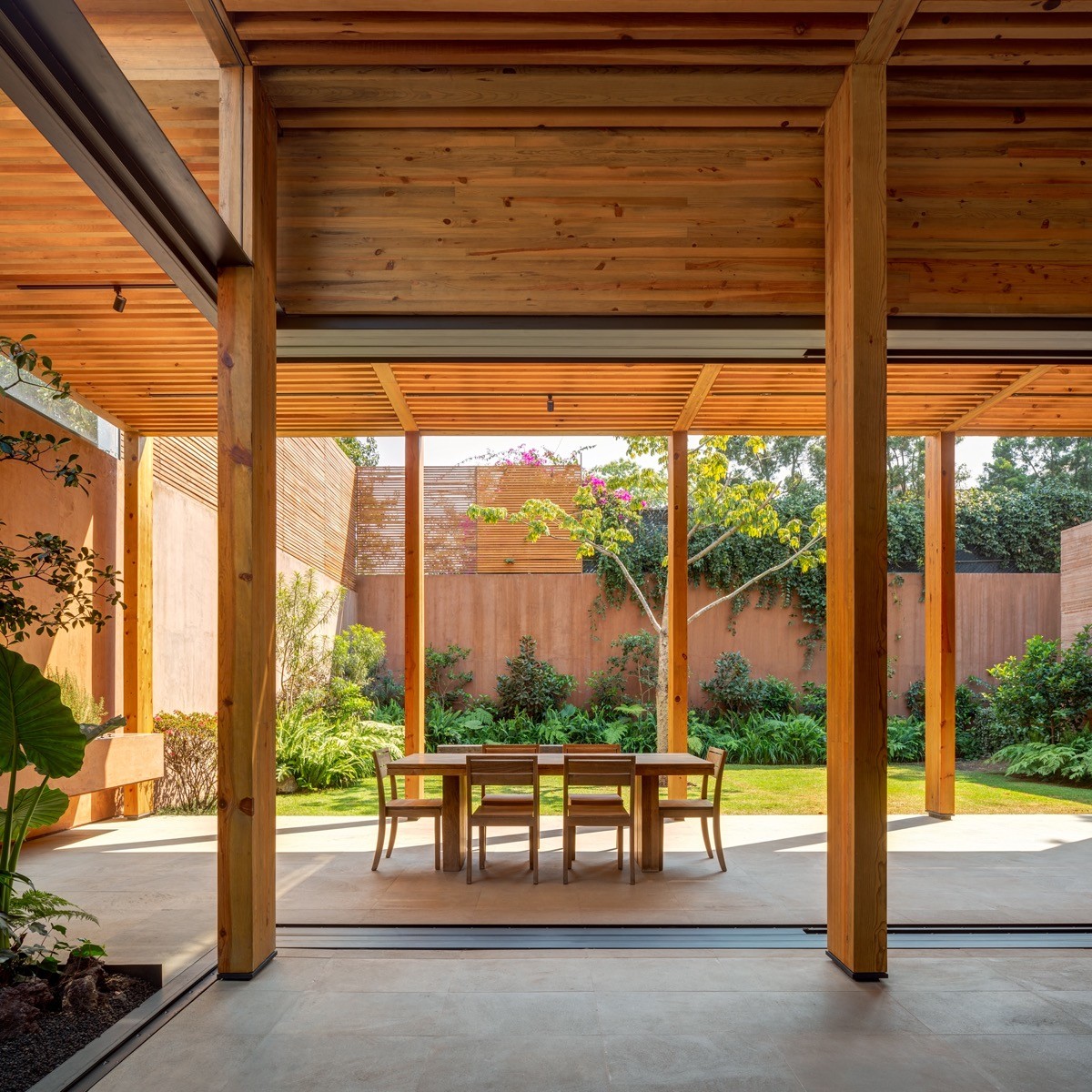 The stunning appeal of this wooden ceiling is not limited to its exterior appearance only. The slatted design complements perfectly with the upper fencing, enhancing the overall charm and appeal of the space.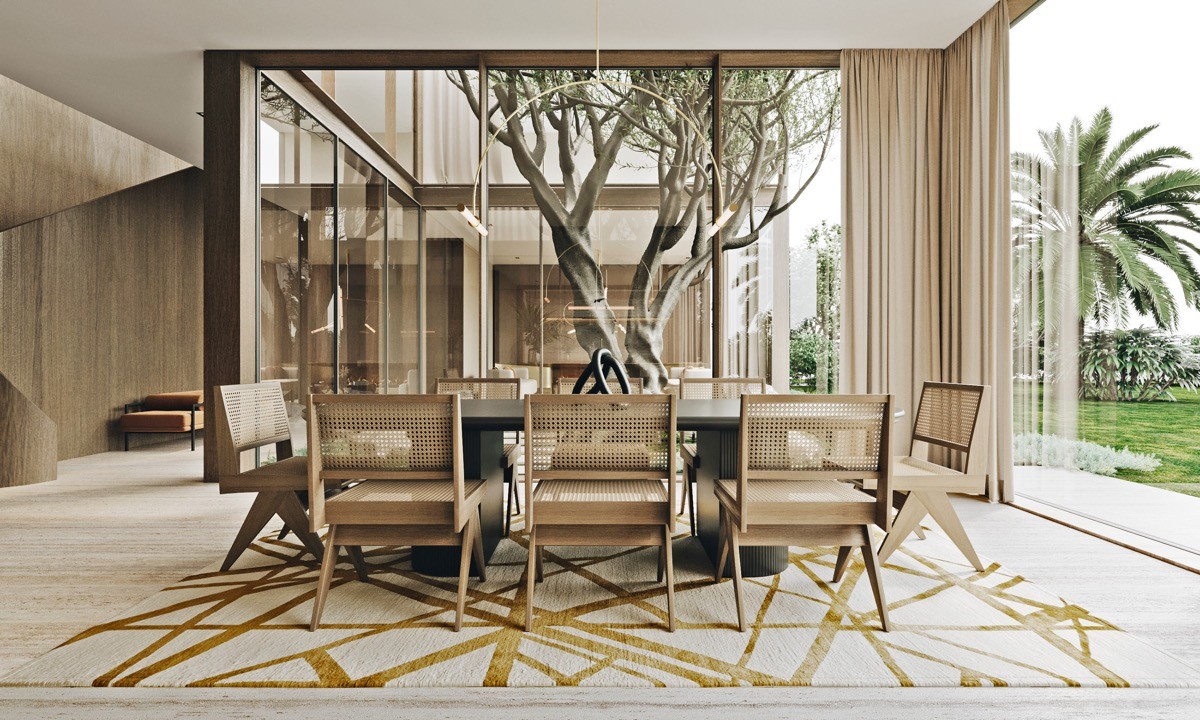 Allow nature to have its space. A spacious living area is divided in half by a glass partition that creates a home for a natural tree.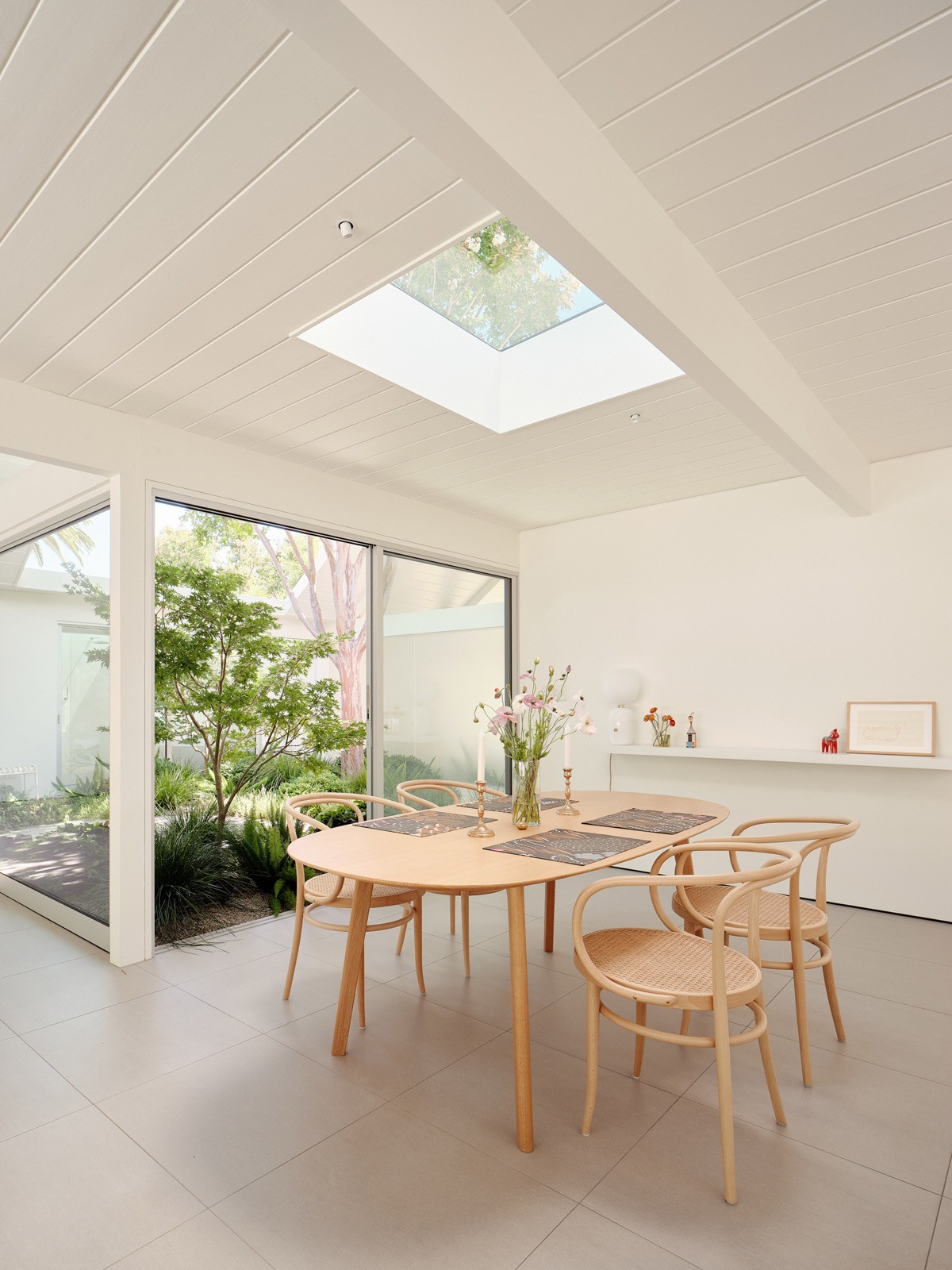 Reviving uninteresting dining areas can easily be achieved by strategically installing a skylight.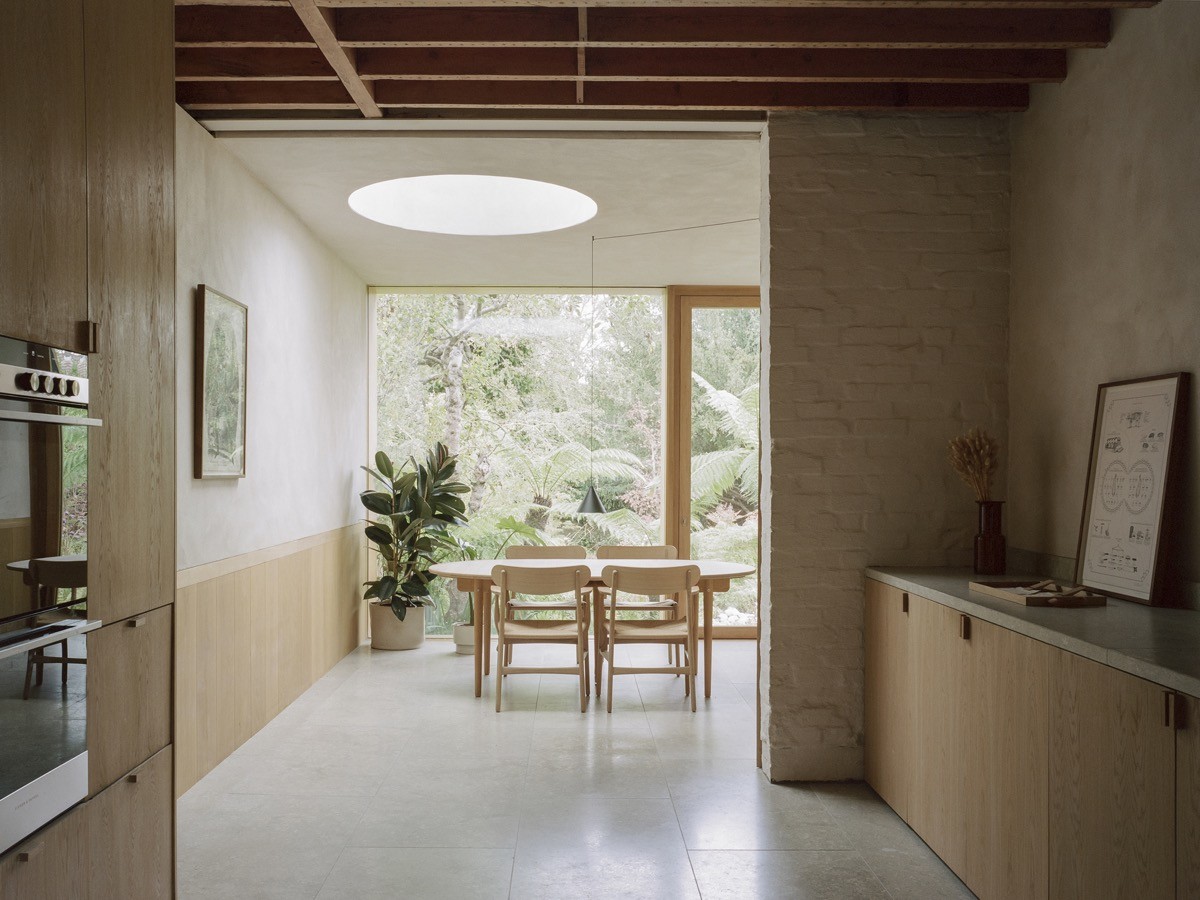 A circular opening in the ceiling resembles the appearance of the sun.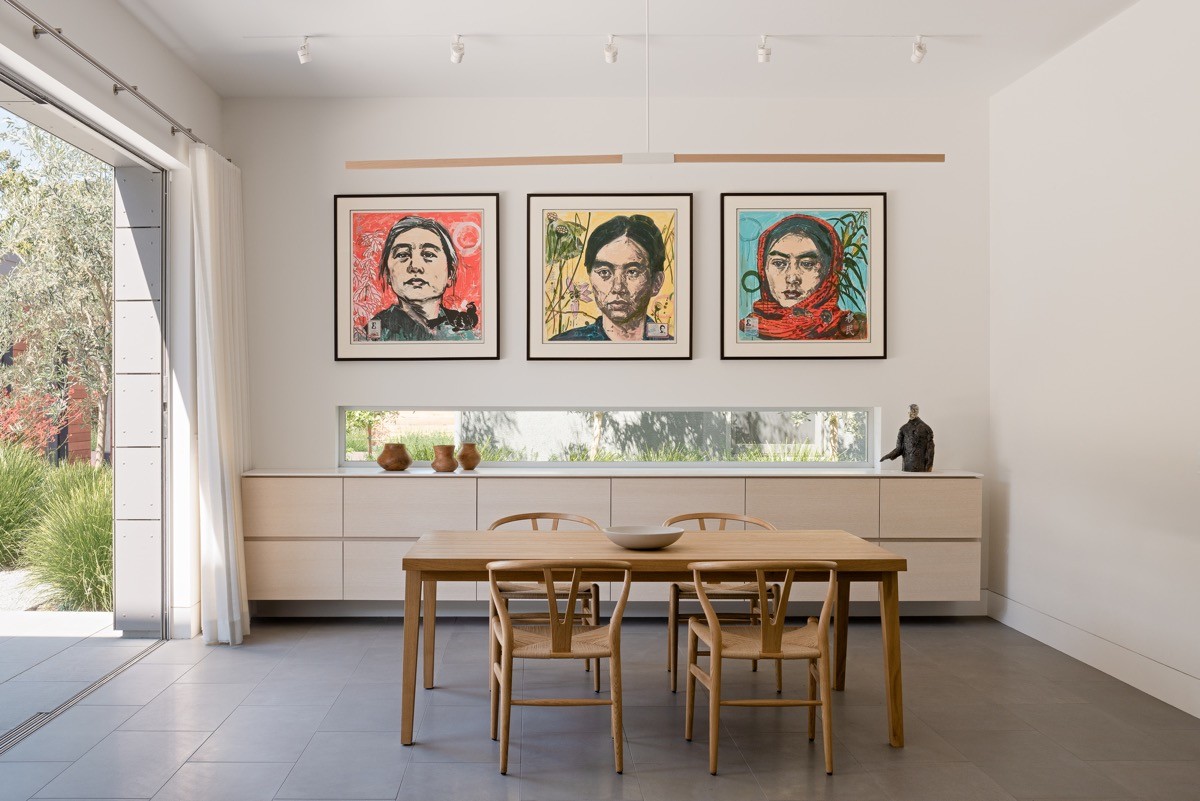 Why settle for either a breathtaking view or wall space to showcase your art? With a sleek and slender letterbox window, you can have the best of both worlds.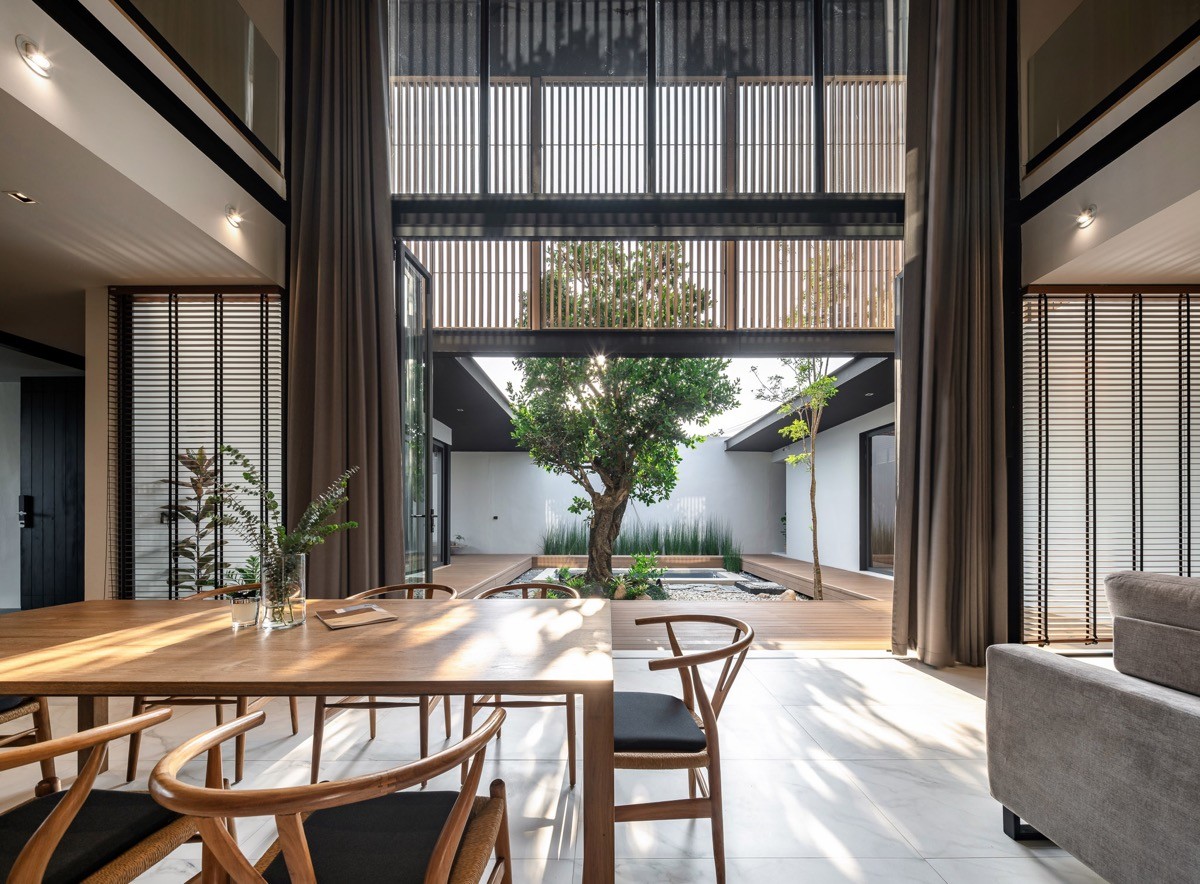 The sun's rays are filtered softly by the slatted shutters in this peaceful abode located in Thailand.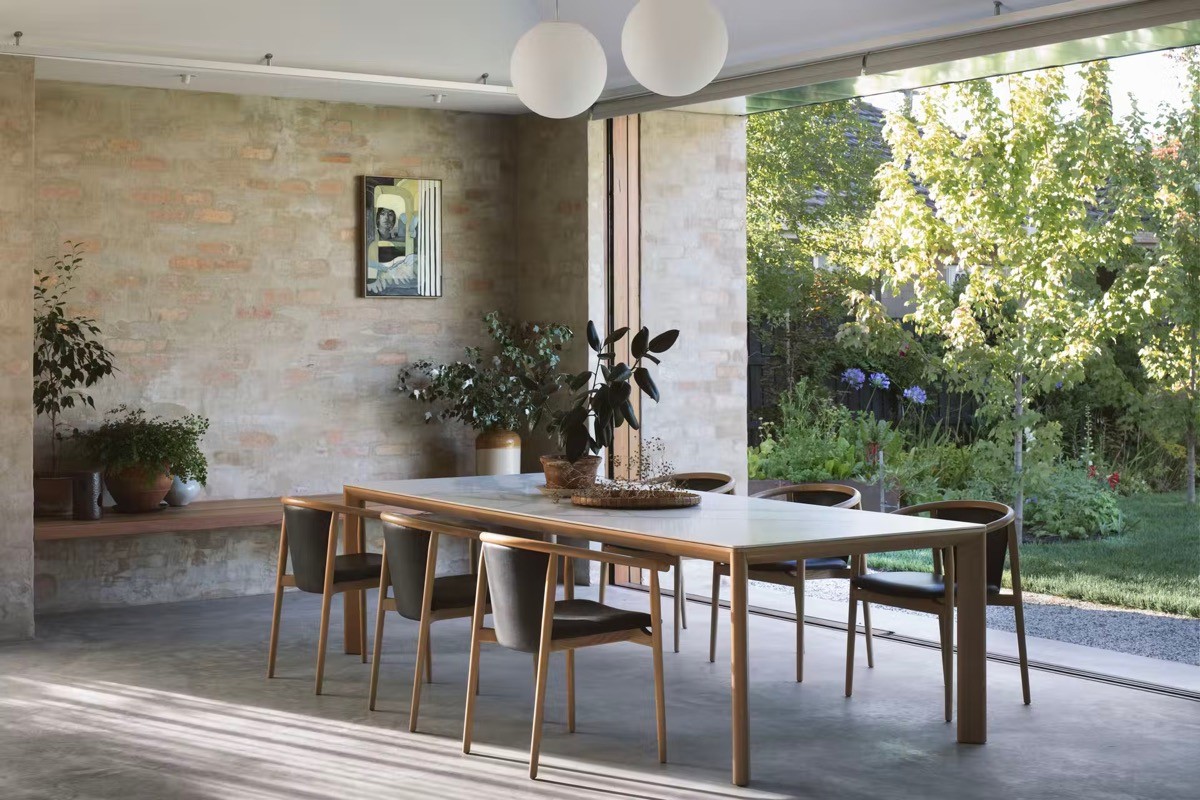 Bare brick walls seamlessly bring the outdoor vibe indoors.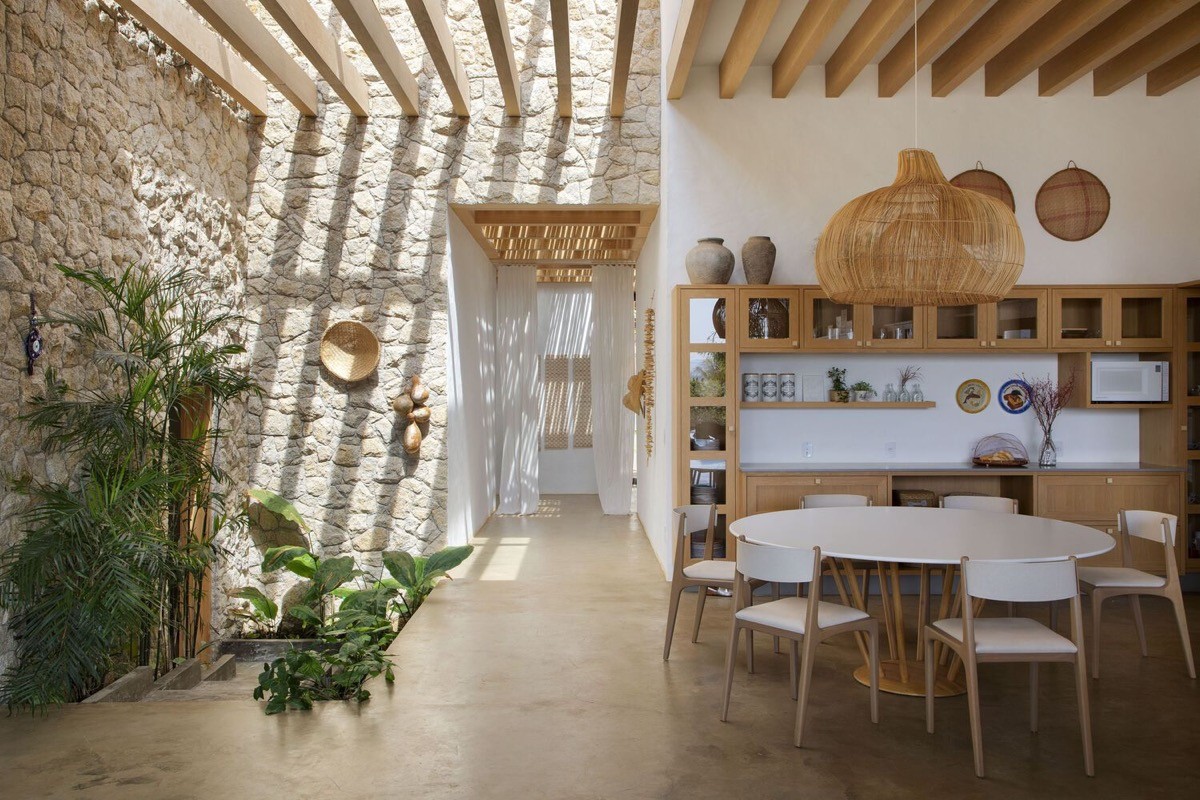 The presence of stone walls gives off a charming rustic and bohemian atmosphere with its unique textured appearance.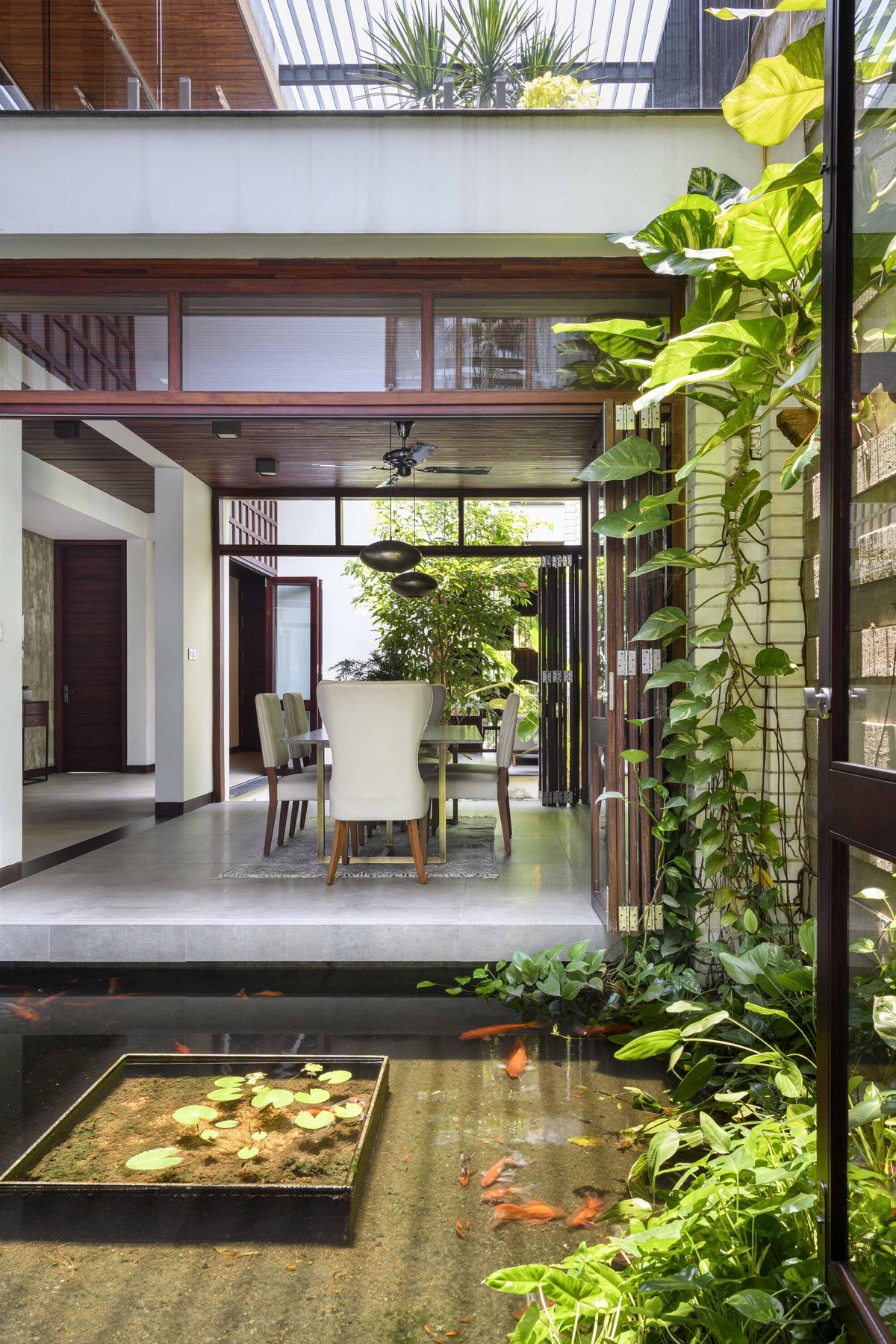 The peaceful atmosphere can be enhanced by the soothing sounds of nature such as the gentle flow of a fountain or the soft bubbling of a fish pond. A stunning contemporary Indian home showcases this feature beautifully.
Make use of the scenic garden sights to create an exquisite space, just like this remarkable open plan dining area with its one-of-a-kind staircase design. The playful interplay of light and shadows on the dining set and surroundings is due to the curved treads.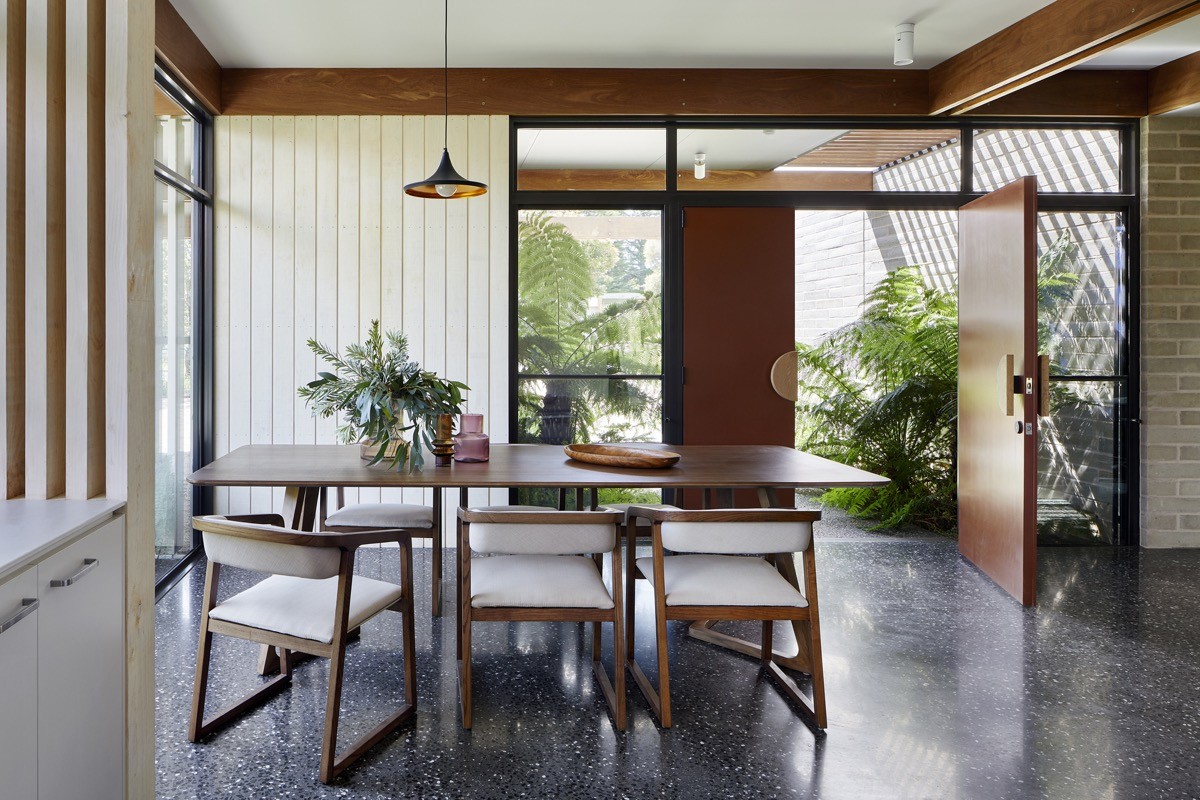 Bring a fresh look to your dining space by positioning it in the brightest area of your home with a stunning view of your garden, regardless of whether it's located near the front door.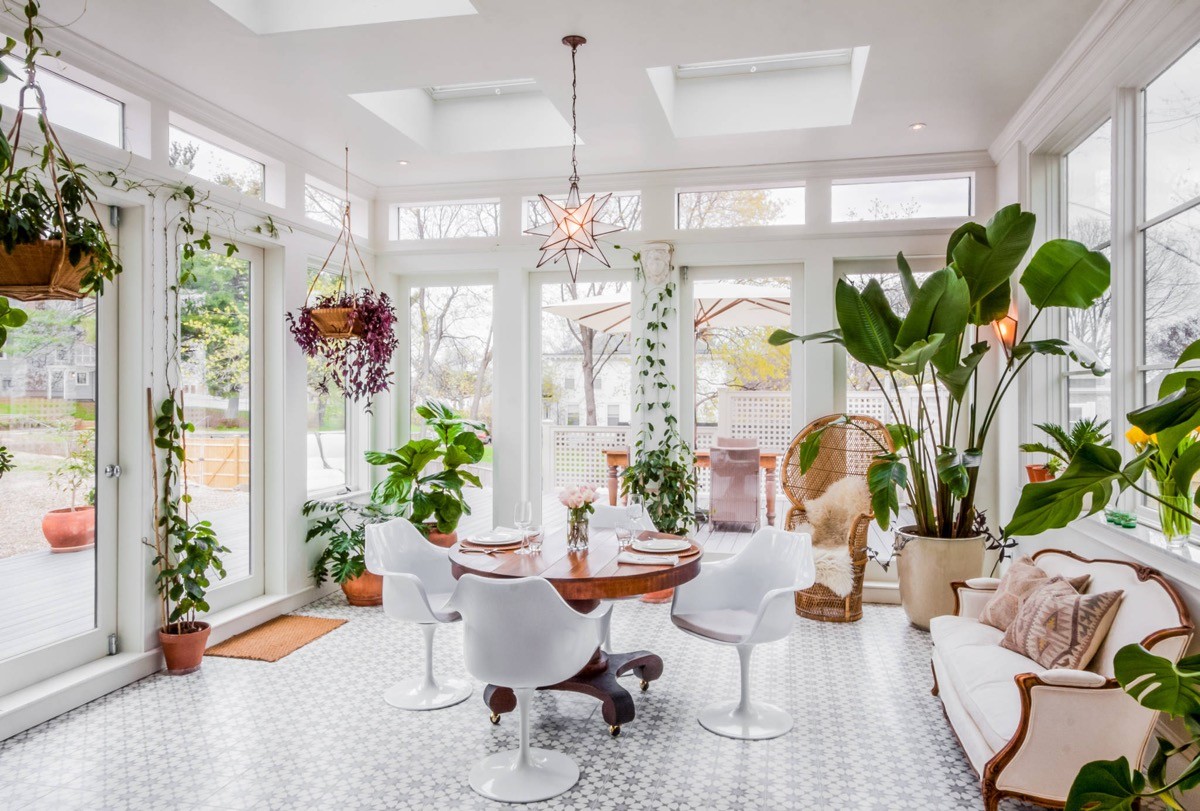 It's not necessary to have a garden when you can enjoy the beauty of thriving indoor plants.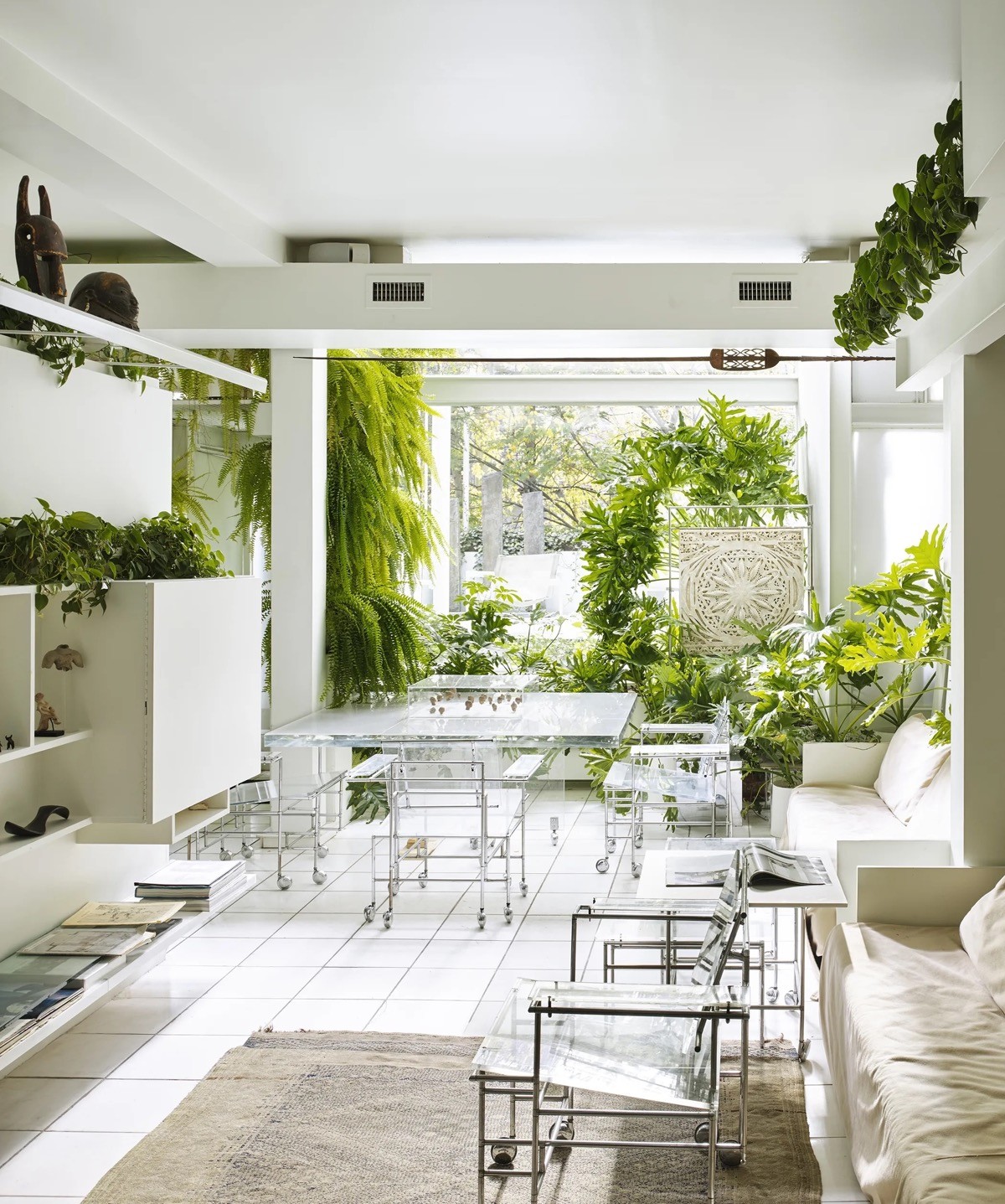 Why settle for a few plant pots when you can fully embrace the greenery trend? Opt for simple white or glass dining furniture to allow your plants to take center stage.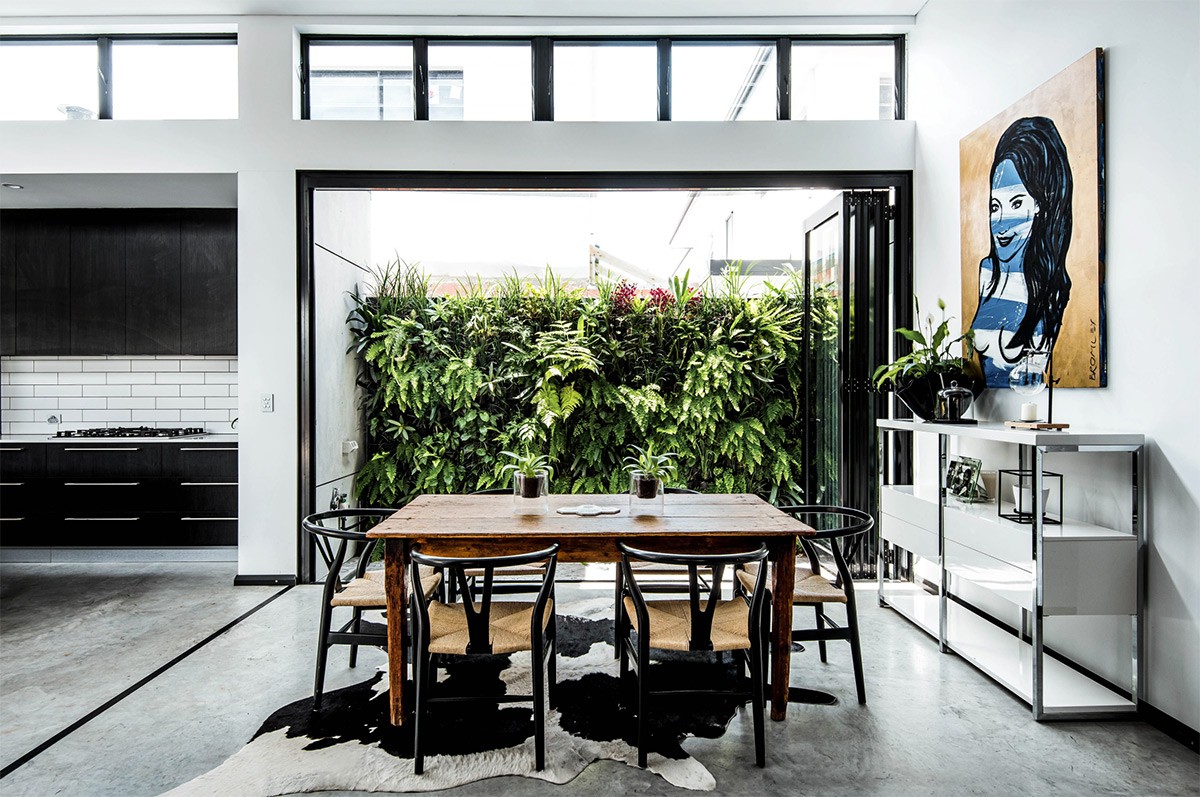 If your outdoor space is limited, why not try creating a vertical garden wall? It's an innovative way to cultivate plants and produce a beautiful green scenery to enjoy while you dine.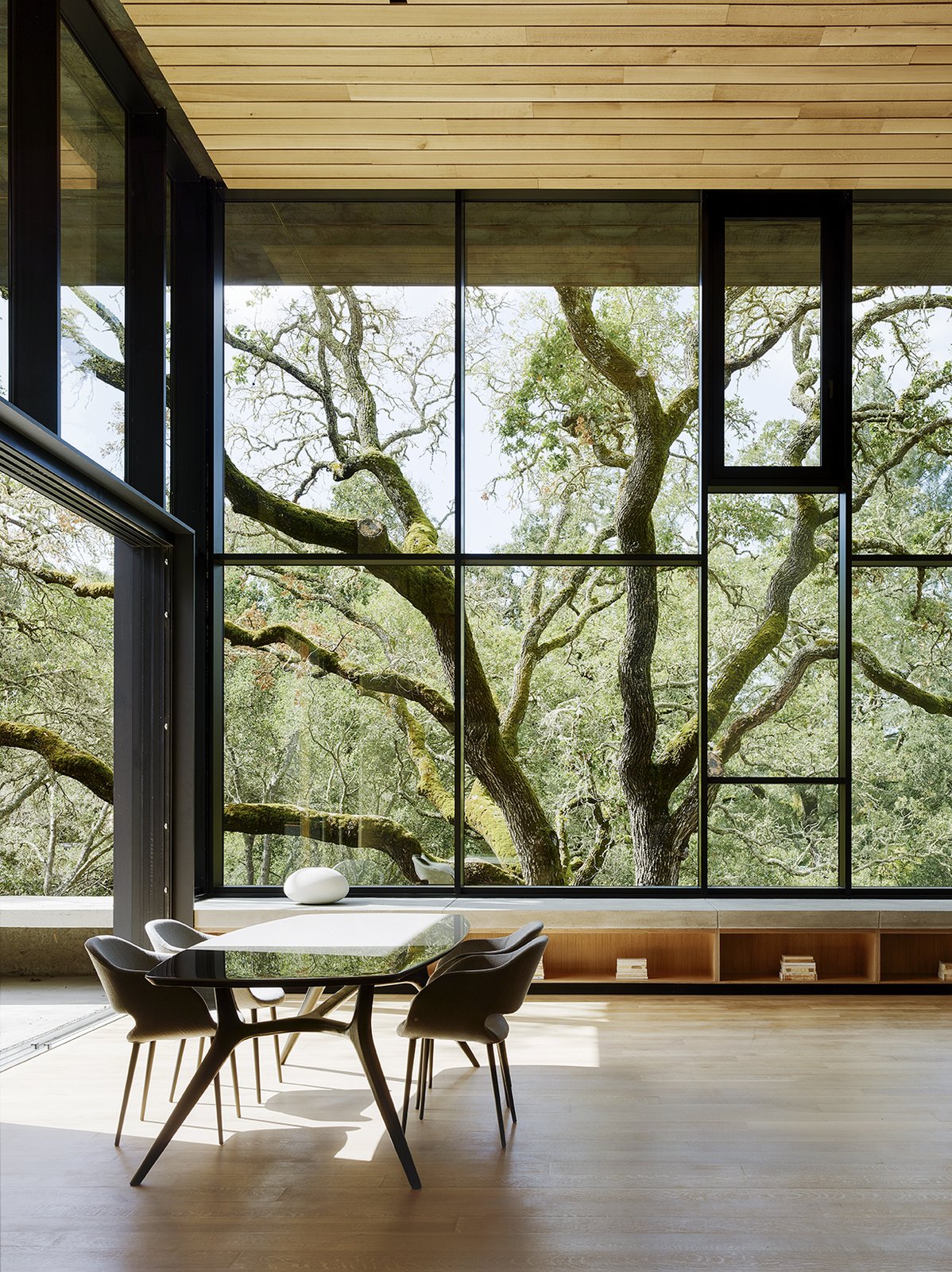 Going up to an apartment on the upper floor is like being on top of the trees.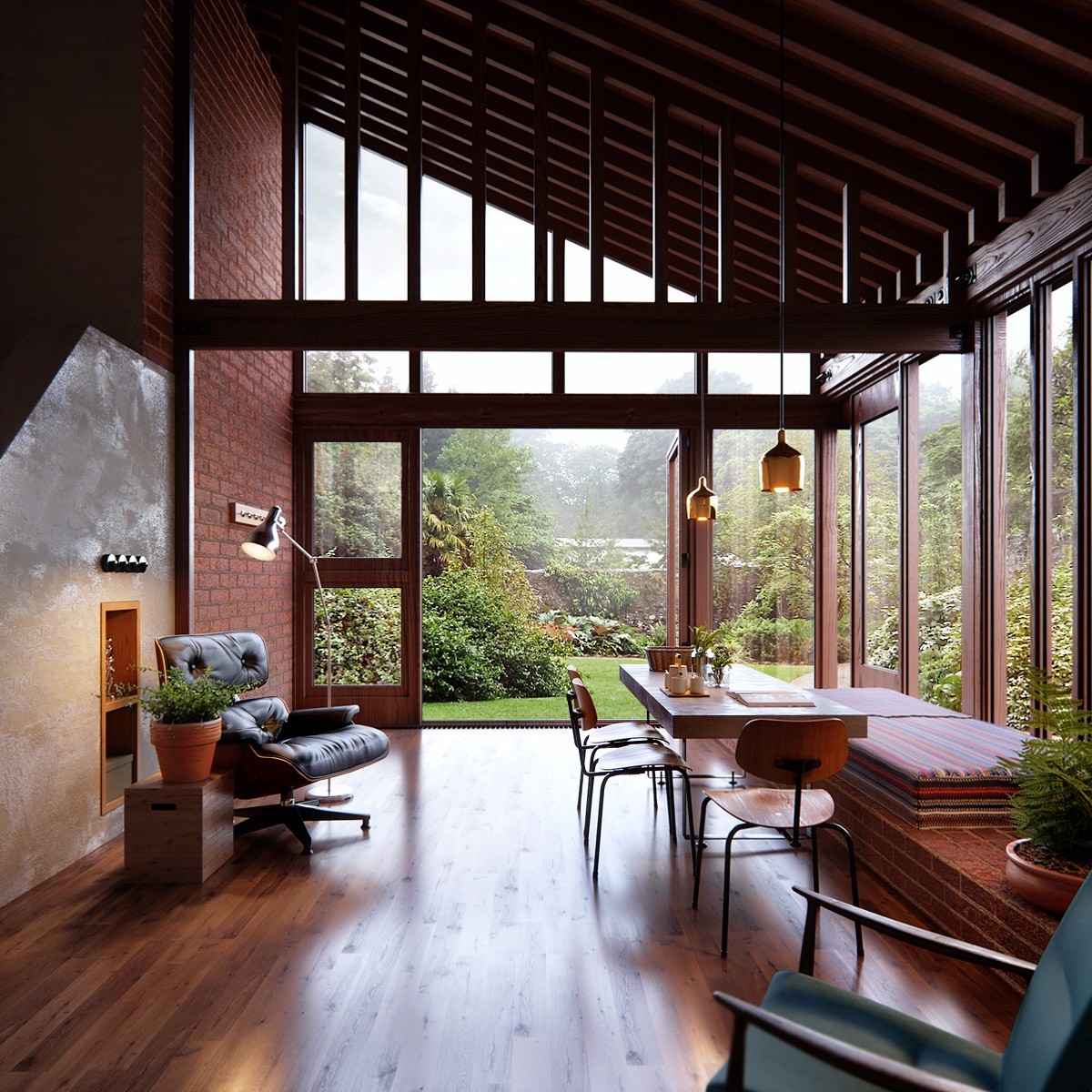 This dining bench is sure to become the most coveted spot in the home, whether it's mealtime or not.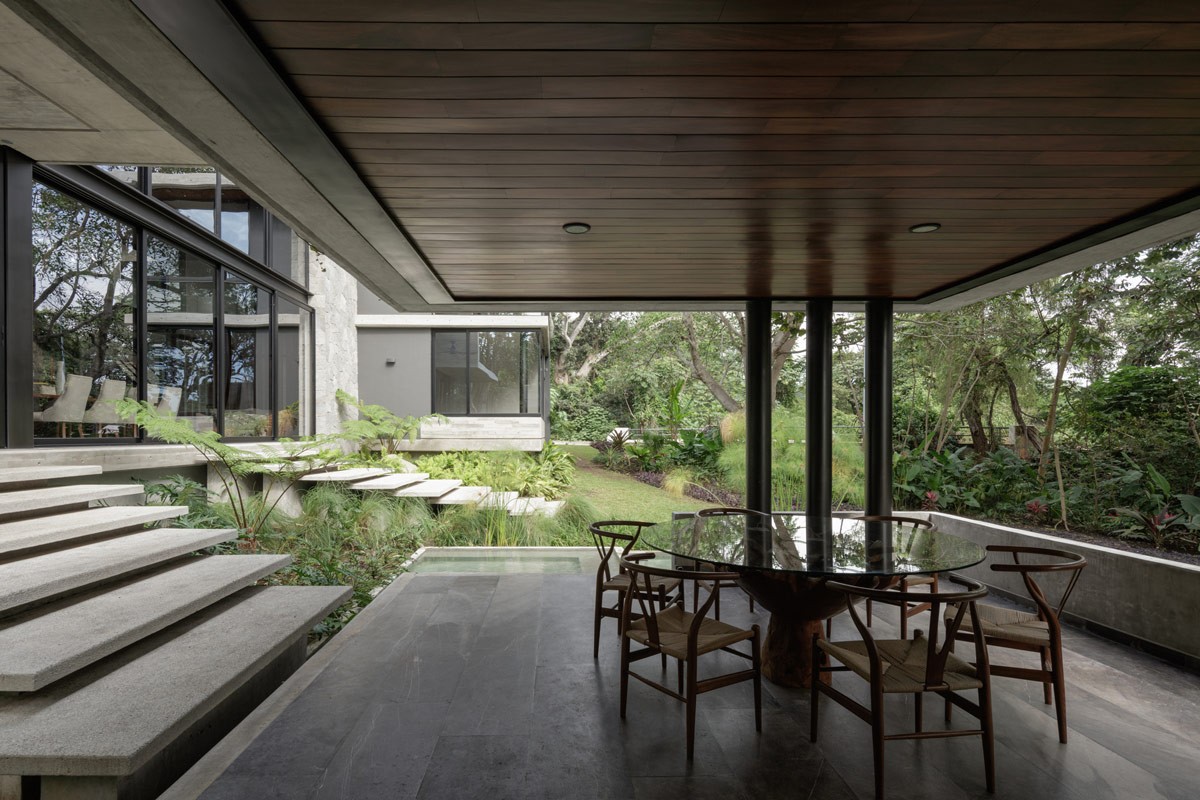 Going outdoors. By constructing staircases amidst the foliage, you can set up a dining area on uneven ground without the need for extensive foundational work. Check out additional visuals on this topic.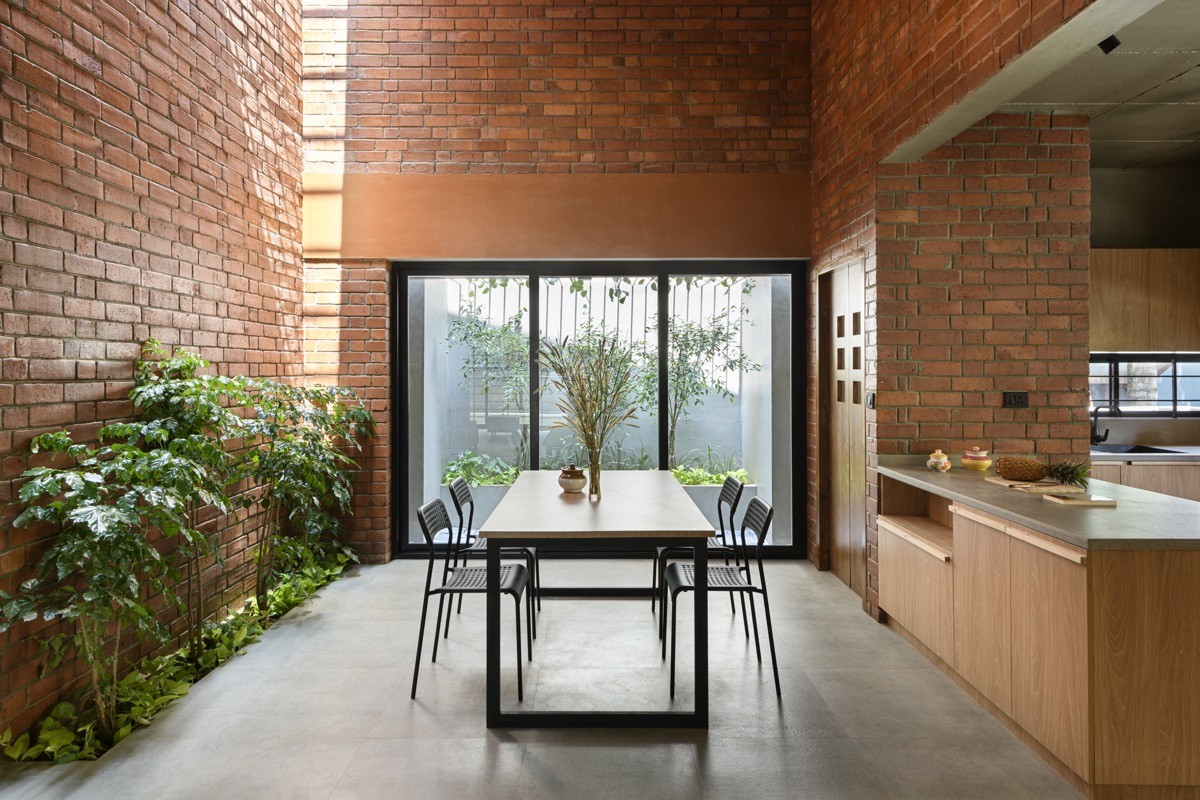 Instead of having a plethora of indoor planters, create a single sleek pathway in your flooring.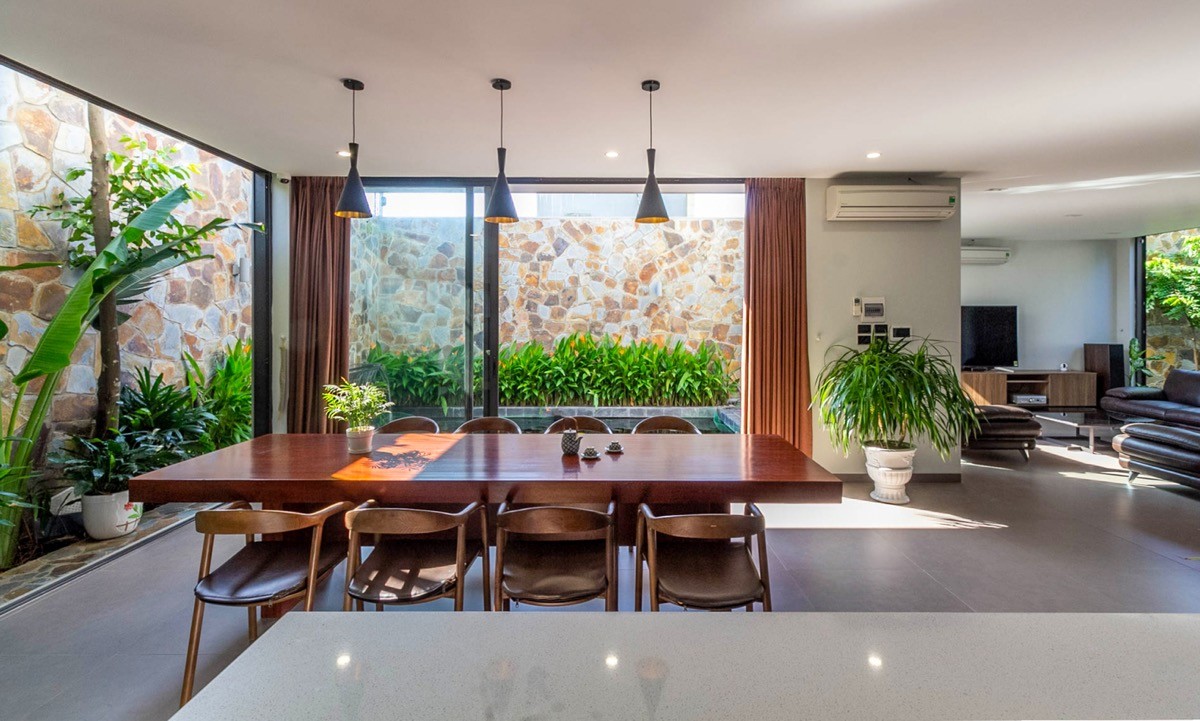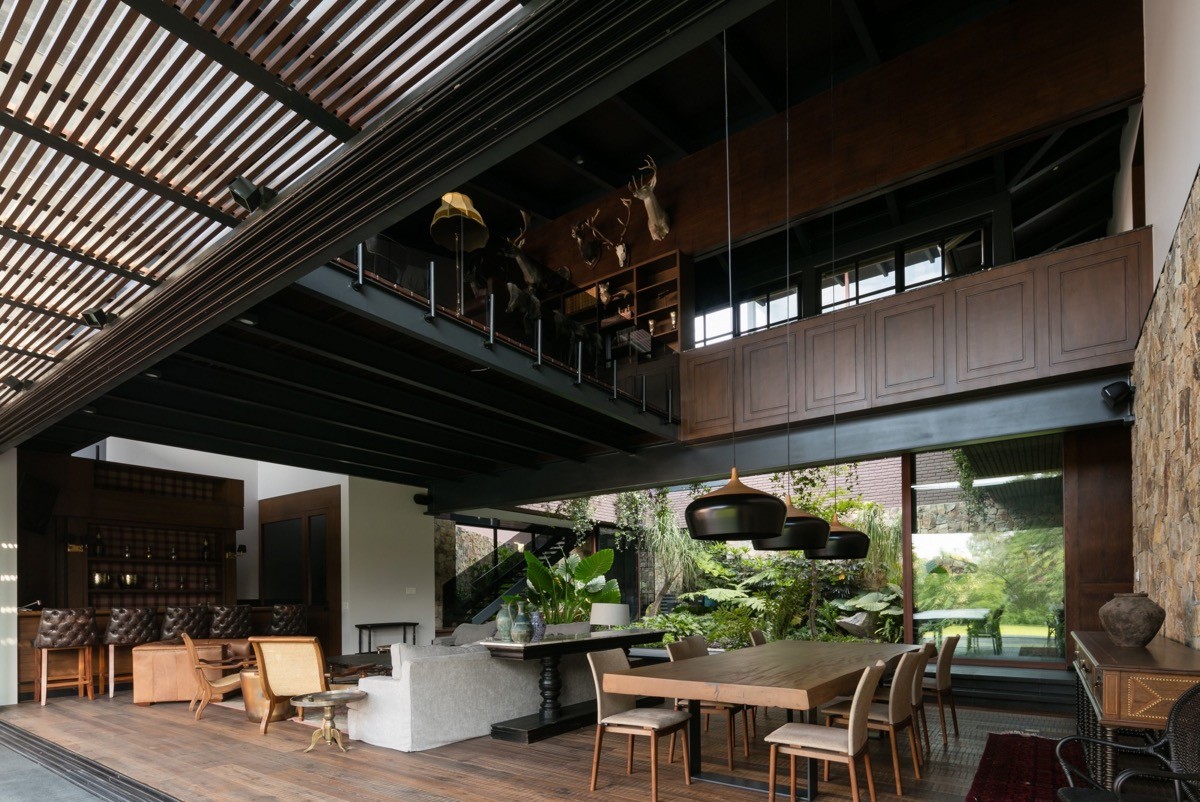 The fresh green surroundings create a striking contrast against the deep chocolate brown interior of this contemporary Mexican residence.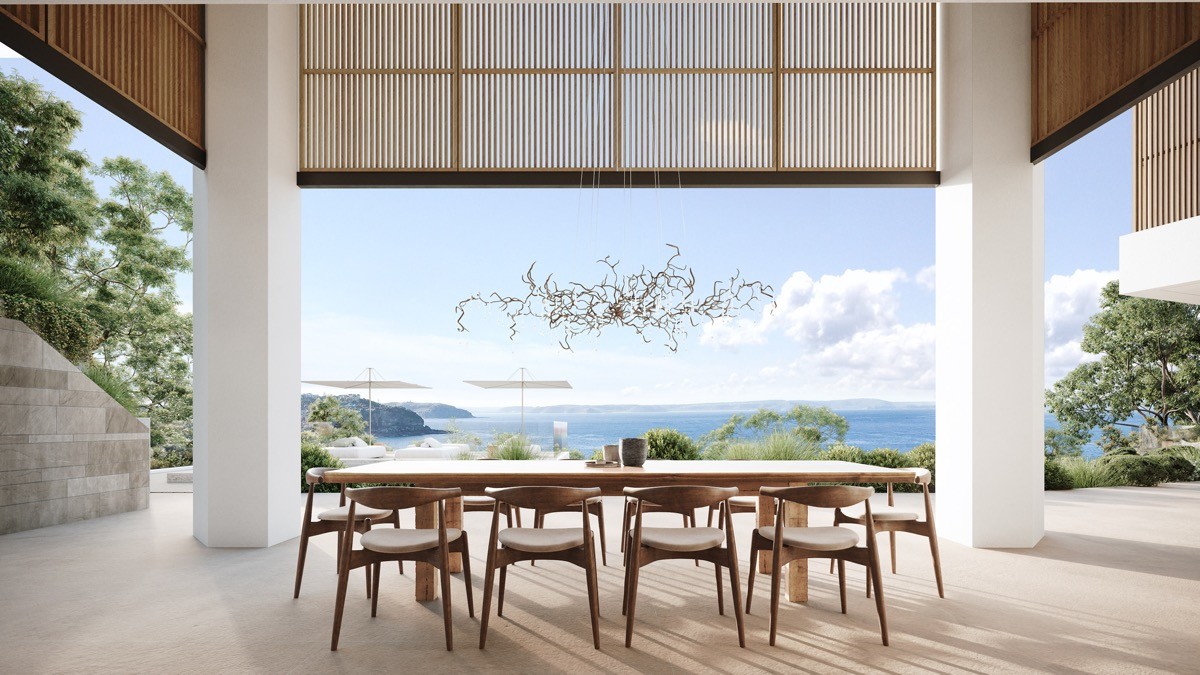 Imagining the Beach. The light and airy dining room design is complemented by the ethereal white stucco that envelops it, creating a dreamlike atmosphere that is enhanced by the stunning seascape view.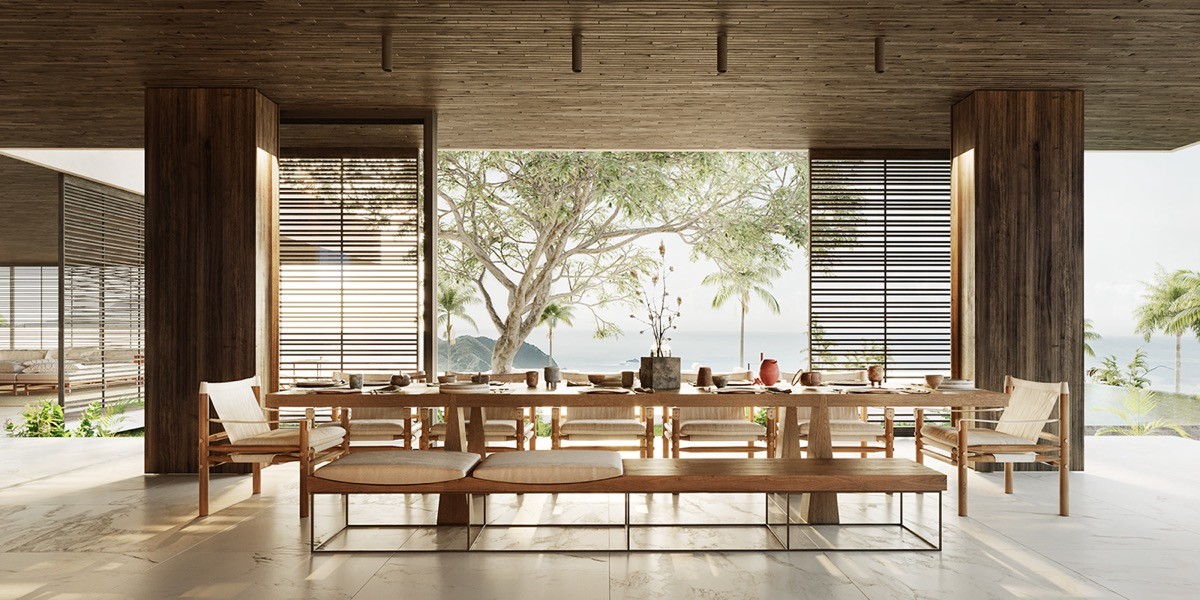 This opulent Indonesian villa embodies serenity through its harmonious design of organic elements and perfect symmetry.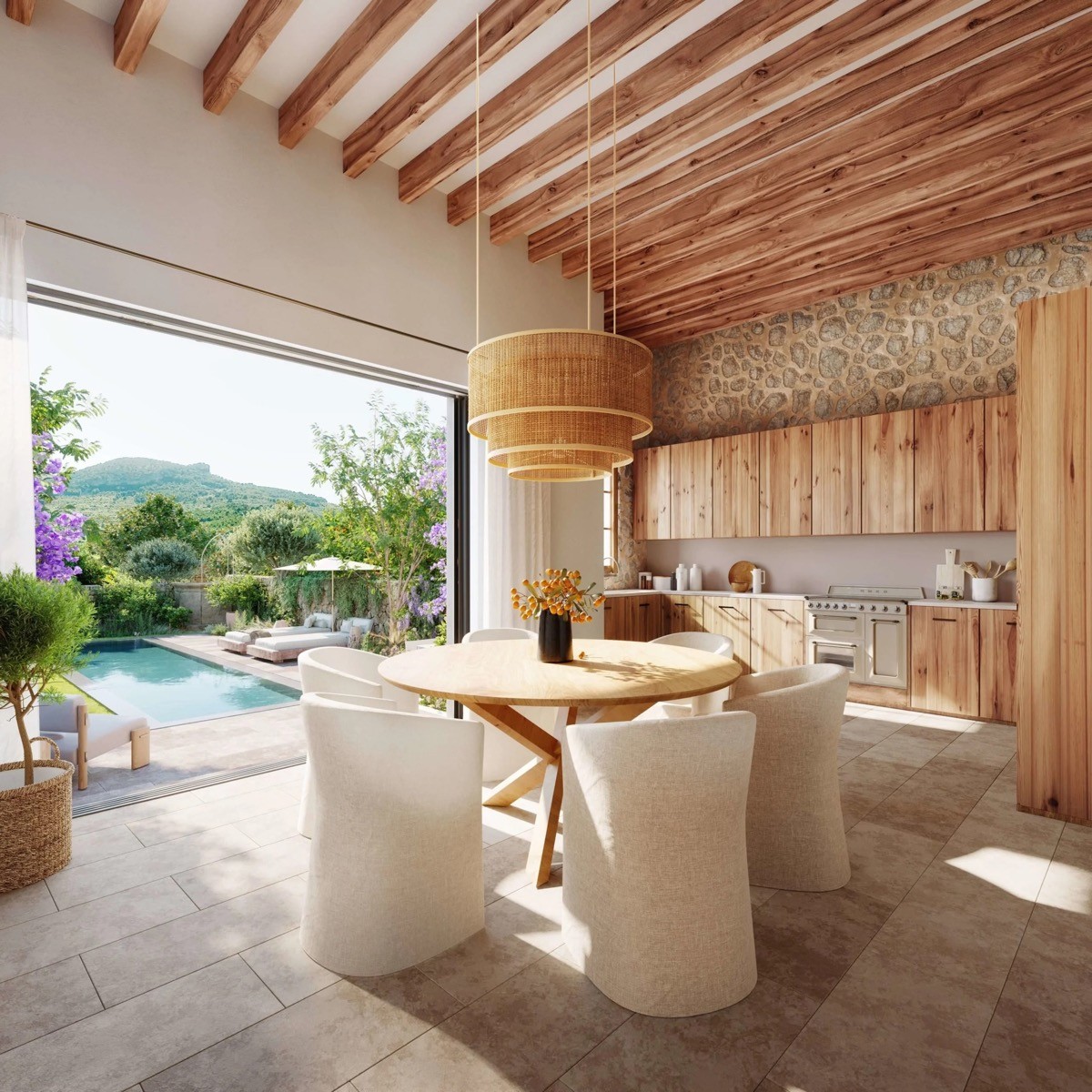 This charming villa design combines a bohemian-inspired interior with a luxurious pool terrace that seamlessly flow into each other through wide patio doors. The addition of a stone feature wall adds an outdoor feel that perfectly complements the beautiful flower-filled view. The circular chandelier is a perfect match for the overall theme.