Lucille reached out to us via Instagram, asking if we would be interested in sharing the inspiring story of her special needs foster cat, Journey. Prior to hearing about Journey's struggle with cryptococcosis, a rare fungal infection he developed while at a shelter in late 2022, we had never even heard of the condition. In an effort to raise awareness about this medical issue, we happily agreed to feature Journey and his journey to recovery. Our interview with Lucille was both enlightening and entertaining, and we're sure you'll enjoy learning about Journey's unique story.
During our chat, Lucille explained how she first came across Journey on Facebook. He was being advertised as a feline in a kill shelter, potentially suffering from cancer on his face. Despite the odds, Lucille saw something special in Journey and knew she had to help him.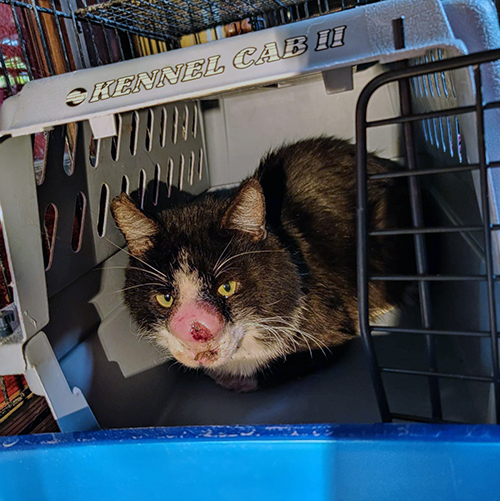 The picture from @journey_thestoryofacat on Instagram portrays a cat who had been struggling with cryptococcosis, which was causing him immense pain and bringing him closer to death. However, after we took the initiative to rescue this poor soul on November 3, 2022, he found a new lease on life. It was an emotional moment for me when I first laid eyes on him, and tears flowed as I realized just how much he had been suffering.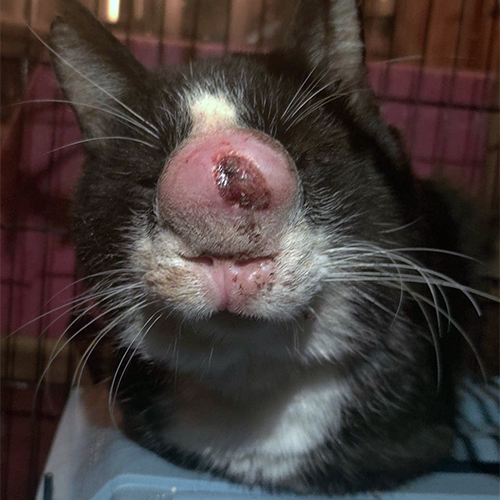 Journey's Instagram page, @journey_thestoryofacat, recently shared some information about a disease that has affected him. Cryptococcosis is a fungal disease that is uncommon and grows in areas of mold, decayed vegetation, and dried pigeon feces. Unfortunately, when a cat inhales these spores, they can enter the sinus cavities and spread into the brain, leading to death if left untreated. This fungus can also cause large growths on the outer face, eating away at the facial structure. It's important for cat owners to be aware of this disease and take precautions to prevent it.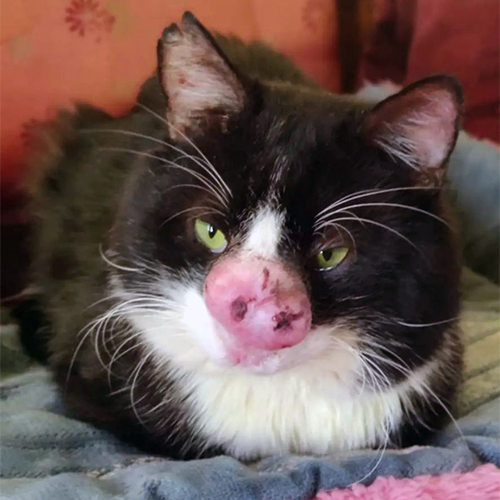 According to L, there are many misconceptions about special needs cats, including Journey. These cats can have different illnesses and diseases that require extra care and attention. Unfortunately, many cat owners tend to give up on their pets when diagnosed with common diseases such as cancer, FIV or FeLV. Some may choose to euthanize them, take them to a kill shelter, or simply ignore their needs altogether since they believe cats don't have the emotional capacity to feel like humans do.
I have faced harassment from some individuals who believe that I should euthanize my cat, with them asking me what I am even doing with him. However, these people are simply misinformed. I have a significant amount of experience dealing with his illness, spanning almost two decades when most veterinarians had no knowledge of it. In fact, many still don't. He was rescued when he was on the brink of collapse, and we have been working on his treatment for five months now. The road to recovery is long, but he still has a good quality of life. Despite feeling unwell on certain days, he finds joy in sitting on my lap while I scratch under his chin.
MAF: Can you share some of the obstacles you've encountered while taking care of Journey who has cryptococcosis?
L: Every day poses a new challenge when it comes to looking after Journey. Apart from administering his medication daily, I have to coax him to eat by giving him appetite enhancers. His sense of smell has been affected due to the illness which makes it difficult for him to eat. I must mix and feed him immune boosters using a syringe which he detests. During winters, I have to ensure he stays warm and protected from cold drafts. The medication also causes excessive thirst, so I have to ensure he always has clean water available. Additionally, I have to apply antibiotic ointments twice a day to prevent the growth on his nose bridge from getting infected when he gets splits in it.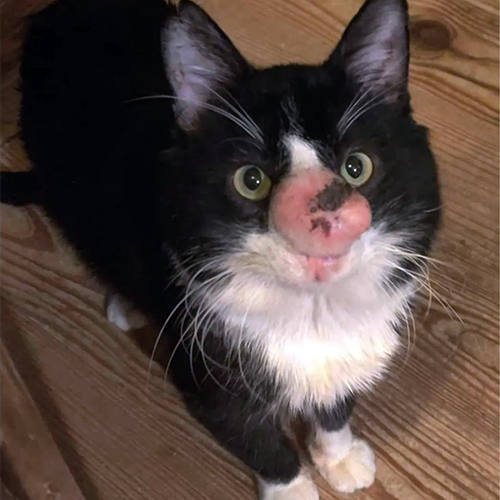 In regards to special needs cats, specifically those with cryptococcosis, there is a lack of awareness among the general public. These cats are typically outdoor cats, although there are rare instances of indoor cats contracting the disease. It is likely that these indoor cats were not living in a clean environment. The majority of cats with this condition are ones who are allowed to roam freely or are abandoned and left to fend for themselves on the streets.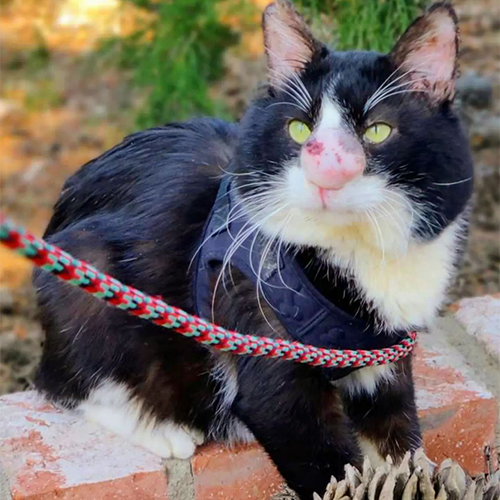 Could you tell us about the things that Journey enjoys doing the most?
Journey's ultimate favorite activity is snuggling up with me on my lap. As I'm writing this, he's currently curled up on my lap, with his breathing being quite labored. He seeks comfort and solace from me during these times. Due to his illness, Journey has been limited in his participation in physical activities, leading him to rest more than anything else. However, he is slowly learning to play and explore, despite his condition keeping him low-key.
MAF:
Could you share the backstory of his name?
L:
Journey was the perfect name for this dog because we anticipated a challenging and lengthy journey ahead of us. The CEO of Pawsitive Tails to Remember, Terri McCabe, and I brainstormed and arrived at the name together. Naming him Journey seemed like the most appropriate option given the obstacles we knew we would face.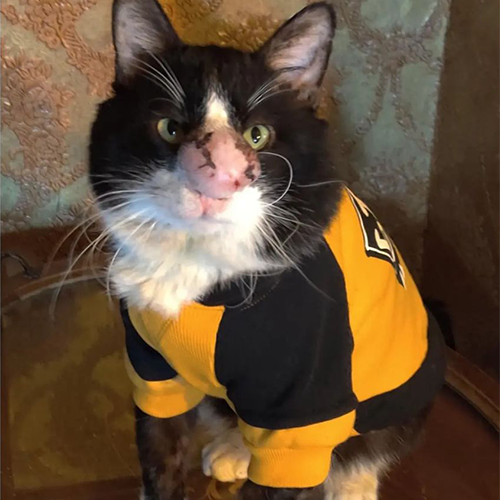 The Instagram account @journey_thestoryofacat features an image of a beloved feline companion. When asked about the significance of Journey, L explains that she has cared for many ill cats throughout her life, and cherishes each day she spends with them. Although Journey has a heart murmur that causes some concern, L sees his presence as a precious gift. She hopes for his continued health and well-being, wishing that he may one day breathe without difficulty.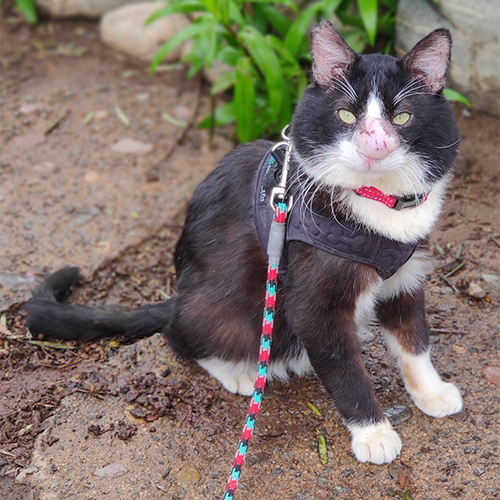 If you're curious about this extraordinary feline, you can keep up with Journey's adventures by following them on Instagram. Check out @journey_thestoryofacat for more!