In October 2020, Emily and Charles heard a kitten crying outside their home in Oregon. They wanted to save the little cat from the alleyway between their house and neighbor's home but couldn't reach it. They saw the kitten again with four siblings a month later. The young Siamese kitten and its littermates were seemingly abandoned by their mother, a stray cat, and trying to seek refuge from the cold and rain. Although they tried to help all of them, only two kittens could be saved. The third kitten was steadfastly lying on top of another refusing to move. Eventually, Charles brought the two-month-old felines inside after giving them a flea bath. They were most likely born in a rural farming community where people often abandon their unwanted cats. Finally, the pair was moved to a spare bathroom to settle into their new home.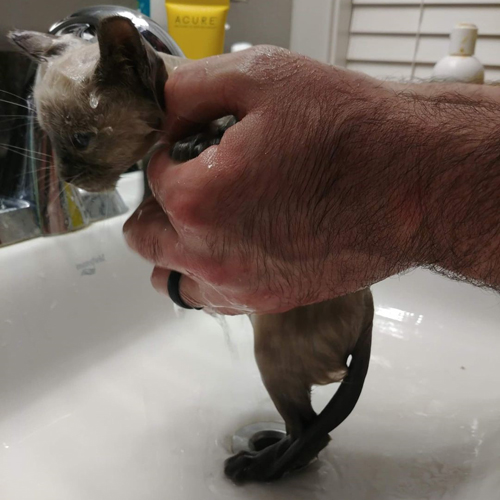 According to Charles, the male kitten was very tiny and thin that he looked like a little dumpling when he curled up on a heated blanket. That's how they came up with the name Dumpling for him and named his sister Latte. Eventually, with the assistance of a nearby group, they were able to save their mother and other siblings, and they all found permanent homes.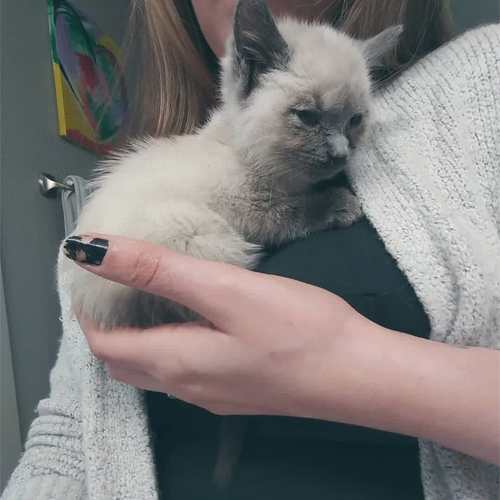 According to Emily, the owner of @bubba_dumpling on Instagram, Dumpling and Latte looked alike since they were both Siamese, but Dumpling was different from his sister in various ways. First and foremost, his fur coloring was that of a Blue Point Siamese, and he was noticeably smaller than his sister even though they were the same age. Emily claims that Dumpling has always been the runt of the litter, and after seeking professional veterinary assistance, there were no indications of any underlying medical conditions causing his small stature. The vets concluded that he was merely "particularly runty," which was quite typical for a stray cat with suspected inbreeding issues, especially since his sister was healthy and of average size.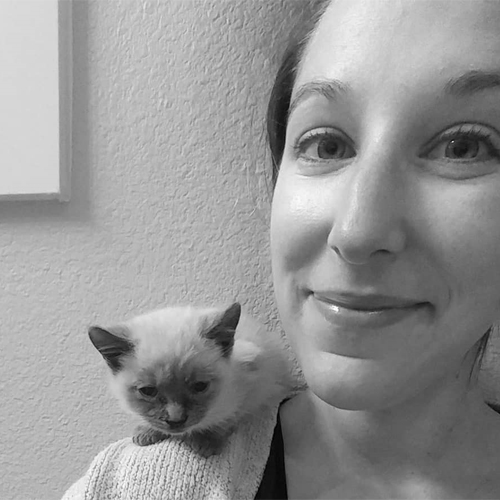 As they grew older, Dumpling and Latte began to show more contrasting behaviors. Despite Latte's normal cat-like movements, Dumpling faced developmental delays. Although he could walk and climb, he struggled with jumping at the age of seven months. Emily and her family initially thought this was due to malnourishment since Dumpling was rescued from the streets. However, as his legs weakened and he stopped climbing altogether, they knew something was amiss.
Emily and Charles were worried about their young cat, Dumpling's health and overall well-being. To get to the root of his developmental problems, they took him to multiple veterinarians. However, after seeing several veterinary professionals, they had to take Dumpling to a feline neurologist who diagnosed him with mucopolysaccharidosis (MPS), a type of metabolic disorder that is more common among Siamese cats. Emily explains that Dumpling has MPS 6, which is characterized by skeletal deformities, facial deformities, growth retardation, shortened lifespan, and other physical abnormalities. According to the feline neurologist, Dumpling is a classic example of MPS 6 as he has minimal function in his hind legs, poor joints, and stunted growth and development.
It's disheartening to know that cats with MPS 6 only live for two to four years. This news shattered Emily and Charles, leaving them in despair. Emily shares that they have never shed tears like this before, especially since they received the diagnosis just a week before Dumpling's scheduled neutering and hernia surgery. The veterinarian advised them that because of his condition, anesthesia would be fatal for Dumpling.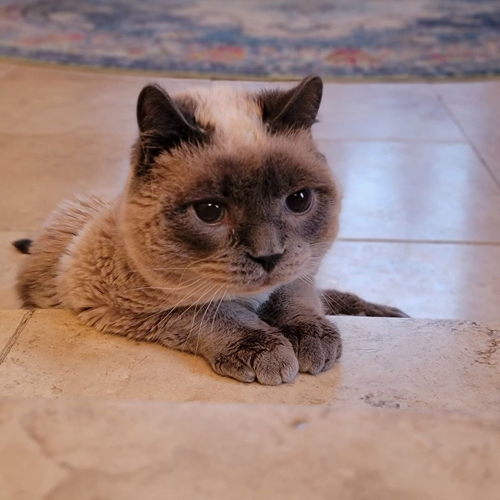 The astonishing story of Dumpling, a cat that defied all odds to survive, is truly remarkable. Not only did he survive, but he is also leading a happy life despite his physical limitations. Unlike his sister, who can run and jump, Dumpling has to depend on rolling, crawling, and scooting to move around. However, with the help of his loving parents, he manages to navigate his home and explore the world around him. In fact, he even has his own personality and knows exactly what he wants and doesn't want. One innovative way his parents have found to help him maintain some autonomy is by wheelbarrow-walking him around the house. Dumpling may not be a typical cat, but he is proof that with love and care, anything is possible.
Dumpling is a playful cat who enjoys lounging by the fireplace, taking over his dog sibling's bed, and hiding under a cozy blanket. Aside from exploring his surroundings, Dumpling likes to play with toys, especially when Emily and Charles join in. However, be warned, as he has a habit of nibbling on fingers if he feels ignored.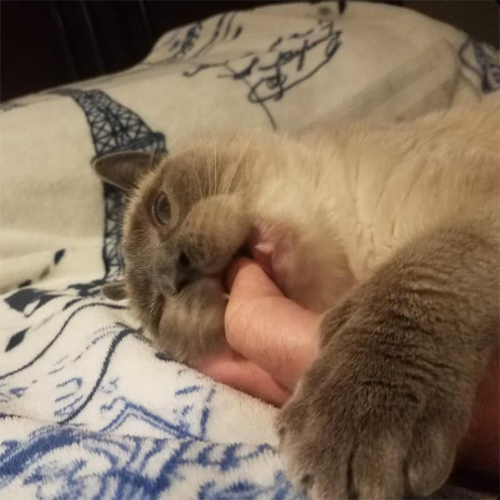 The feline named Dumpling may seem distinct from other cats, but he doesn't actually require many special arrangements. The only area where he needs help from his owners is when he has to use the litter box. Emily, his owner, said that if they don't assist him, he may end up making a mess. Nevertheless, Emily and Charles don't mind taking extra care of Dumpling, and they try to ensure that he can be independent as much as possible.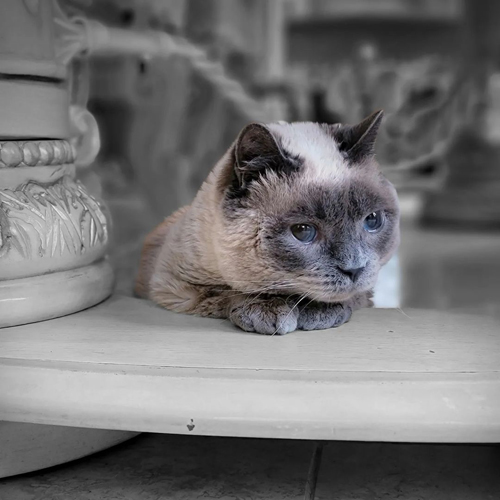 Thankfully, Emily and Charles have found a way to make Dumpling feel content and fulfilled. Despite facing some difficult challenges that many cats would find overwhelming, he remains confident and full of character. Emily admits that Dumpling has been dealt a tough hand in life, but each morning when they wake up, he greets them with a belly roll and a loud purr that fills the room with joy.
Emily and Charles aim to motivate individuals to adopt cats with special needs, such as those who have been diagnosed with severe conditions like MPS, by sharing Dumpling's story. As a result, they hope to inspire rather than discourage others. Despite having a shorter life span, Dumpling can still lead a joyful and fulfilling life. Emily states that their goal is to inform people that special needs animals, including Dumpling, can have a complete life.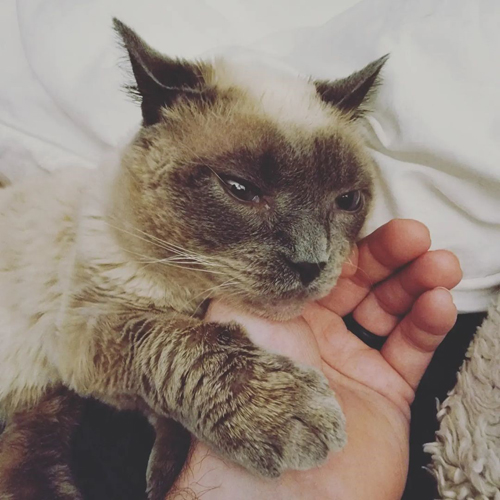 The Instagram photo posted by @bubba_dumpling showcases the adorable little Dumpling, who was rescued from the streets by a couple named Emily and Charles when he was just two months old. While his sister Latte may live longer, Dumpling's life is sure to be happier than it would have been on the streets. He has had a tremendous impact on Emily and Charles, who consider him the center of their world. They refer to him as their "angel baby" because of the love and joy he brings into their lives every day, regardless of what kind of day they're having.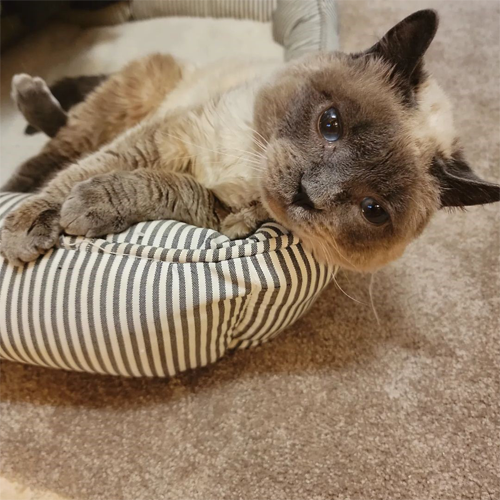 If you're interested in knowing more about the charming cat, you can stay updated with Dumpling's adventures by following its Instagram account, @bubba_dumpling.